Summary
Current Position: US Representative for MI 6th District since 1987
Affiliation: Republican
Featured Quote: 
Any effort to sink the bipartisan infrastructure deal that makes critical investments in our physical infrastructure would be a real dagger to all the progress we've made – both Republicans & Democrats – on this package. We've got to stop the partisan games & get this done. #MI06
Featured Video: 
GOP lawmaker rips Republican colleagues' 'bogus' insurrection claims
News
Republican Rep. Fred Upton on Monday shared a threatening voicemail he had received after voting for the bipartisan infrastructure bill last week.
In the voicemail, which Upton played during an interview with CNN's Anderson Cooper on "AC360," a caller told the Michigan Republican: "I hope you die. I hope everybody in your f**king family dies," while labeling him a "f**king piece of sh*t traitor."
Upton was one of just 13 House Republicans who voted with Democrats on Friday to pass the $1.2 trillion infrastructure bill after hours of delays and debating among Democrats. The legislation, which passed the Senate in August, will deliver $550 billion in new federal investments in America's infrastructure over five years, including roads, bridges, mass transit, rail, airports, ports and waterways.
Following the Friday vote, Upton tweeted in part, "I regret that this good, bipartisan bill became a political football in recent weeks. Our country can't afford this partisan dysfunction any longer."
PORTAGE, MICH.
Even Fred Upton's former opponents like Fred Upton.
For more than three decades, Congressman Upton has represented Michigan's 6th District, the southwest corner of the state, stretching from Lake Michigan to Kalamazoo to the Indiana border. And every two years, Mr. Upton has sailed through reelection with a coalition of supporters across the political spectrum.
Dale Shugars, a Kalamazoo County Commissioner who lost a primary challenge to Mr. Upton in 2002, calls him "a person that has integrity." He "works hard and represents most of the views of the area," Mr. Shugars says, adding that "he votes, for the most part, very well for Southwest Michigan."
By "most," Mr. Shugars is referring to Mr. Upton's January impeachment vote, which has roiled 6th District Republicans and made the congressman a target for many members of the national GOP.
After mobs of angry Trump supporters stormed the U.S. Capitol on Jan. 6, 10 Republicans joined House Democrats to impeach President Donald Trump for his role in inciting the violence. Mr. Upton was one. Rep. Peter Meijer, from Michigan's neighboring 3rd district, was another.
Twitter
About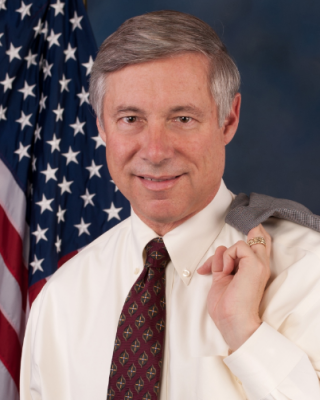 Source: Government page
Congressman Fred Upton is proud to represent the common-sense values of Southwest Michigan's Sixth Congressional District. A diverse section of the state that stretches from the shores of Lake Michigan, the Sixth District is home to key industries that range from agriculture to auto parts manufacturing to high-tech biomedical innovation centers. It includes all of Berrien, Cass, Kalamazoo, St. Joseph and Van Buren counties, and most of Allegan County.
Prior to his election to Congress, Fred worked for President Ronald Reagan in the Office of Management and Budget (OMB). While at OMB, he learned from President Reagan's example that it does not matter who gets the credit, as long as the job gets done. That has been Fred's approach since he was first elected to Congress in 1986 and continues today.
Voting Record
Caucuses 
Congressional Automotive Caucus (Co-Vice Chair)
Congressional Competitiveness Caucus
Congressional Travel and Tourism Caucus
Diabetes Caucus
India Caucus
Indian-Americans Caucus
United States Congressional International Conservation Caucus
Sportsmen's Caucus
Bipartisan Climate Solutions Caucus
House Baltic Caucus
Congressional Arts Caucus[78]
Republican Governance Group[79]
Problem Solvers Caucus[80]
Republican Main Street Partnership[81]
Offices
St. Joseph/Benton Harbor District Office
Washington, DC Office
Experience
Work Experience
Education
Awards
2017 – Detroit News "Michiganian of the Year"
2017 – The Marian B. & Jacob K. Javits Foundation "Celebration of Bipartisan Leadership" Award
2016 – Rural Mental Health Outstanding Legislative Leader Award
2015 – Edwin C. Whitehead Award for Medical Research Advocacy
2014 – Distinguished Community Health Champion Award
2014 – Friend of Farm Bureau Award
2014 – Theodore Roosevelt Leadership Award
2014 – Crime Fighter Award
2014 – TechAmerica Congressional Tech Leader Award
2013 – Champion of Seniors Award
2013 – Humane Society Legislator of the Year
Personal
Fred was born on April 23, 1953, and holds a bachelor's degree in journalism from the University of Michigan. He and his wife, Amey, have two adult children.
Contact
Email:
Offices
Kalamazoo
350 E. Michigan Ave, Suite 130
Kalamazoo, MI 49007
Phone: T (269) 385-0039
St. Joseph
720 Main Street
St. Joseph, MI 49085
Phone: T (269) 982-1986
Washington, D.C.
2183 Rayburn House Office Building
Washington, DC 20515
Phone: T (202) 225-3761
Web
Government Page, Campaign Site, Twitter, YouTube, Facebook, Wikipedia
Politics
Source: none
Campaign Finance
Open Secrets – We Follow the Money
Voting Record
VoteSmart – Key Votes & Ratings
Search
Wikipedia Entry
Frederick Stephen Upton (born April 23, 1953) is an American politician serving as the U.S. Representative for Michigan's 6th congressional district since 1987. The district, numbered as the 4th district from 1987 to 1993, is based in Kalamazoo and stretches along the Michigan-Indiana border in the southwestern part of the state. A member of the Republican Party and former Chairman of the Committee on Energy and Commerce, he has played a major role in shaping post-Obamacare health care legislation. Upton is the only U.S. Representative in history to vote to impeach two presidents; he voted for the impeachment of Bill Clinton in 1998 and the second impeachment of Donald Trump in 2021. He was one of ten Republicans who voted to impeach Trump.[1]
After Sander Levin retired at the end of the 115th Congress, Upton became the dean of Michigan's congressional delegation.
Early life, education, and early political career
Upton was born in St. Joseph, Michigan, the son of Elizabeth B. (née Vial) and Stephen Edward Upton.[2] He attended Shattuck-Saint Mary's, graduating in 1971.[3] He earned a B.A. in journalism from the University of Michigan in 1975. He was a member of the Alpha Delta Phi fraternity, Peninsular Chapter and became a sports editor at The Michigan Daily and thought he might someday cover the Chicago Cubs.[4] He served on the congressional staff of U.S. Representative David Stockman from 1976 to 1980. He was in the Office of Management and Budget (OMB) under Ronald Reagan from 1981 to 1985, while Stockman served as OMB Director.[5]
U.S. House of Representatives
Elections
1986
Upton ran in Michigan's 4th congressional district against incumbent Mark Siljander, Stockman's successor. Upton won the Republican primary 55%–45%[6] and the general election with 62% of the vote.[7]
1988
Upton won reelection to a second term with 71% of the vote.[8]
1990
Upton defeated Ed Fredericks in the Republican primary, 63%–37%.[9] In the general election, he was reelected to a third term with 58% of the vote.[10]
2000
After redistricting, Upton decided to run in the newly redrawn Michigan's 6th congressional district, winning reelection to a fourth term with 62% of the vote.[11]
2002
After redistricting, Upton faced a primary challenge from State Senator Dale Shugars. Upton defeated Shugars 66%–32%.[12] He won the general election with 69% of the vote.[13]
2004
Upton defeated Democratic nominee Scott Elliott, an art gallery owner, 65%–32%.[14]
2006
Upton defeated Democratic nominee Kim Clark, 61%–38%.[15]
2008
Upton defeated Democratic nominee Don Cooney, a Kalamazoo City Commissioner, 59%–39%.[16]
2010
Upton defeated former State Representative Jack Hoogendyk in the Republican primary, 57%–43%.[17] In the general election, he defeated Cooney, 62%–34%.[18]
2012
In 2011, Hoogendyk met with the Club for Growth, a conservative 501(c)4 organization, about running against Upton again.[19] Upton had been criticized for not being conservative enough by Rush Limbaugh, Glenn Beck, FreedomWorks, Right to Life of Michigan, and the Southwest Michigan Tea Party Patriots.[20] On January 17, 2012, Hoogendyk announced that he would challenge Upton in the primary, the winner of which would face the Democratic nominee, former marine and businessman Mike O'Brien.[21][22]
Initial polls showed Upton with a sizable lead over O'Brien, but an October poll showed Upton and O'Brien in a dead heat heading into the final stretch of the campaign.[23][24]
2014
Upton won with 55.9% of the vote, defeating Democrat Paul Clements, Libertarian Erwin Haas, and Green Party candidate John Lawrence.
2016
Upton was reelected, defeating Democratic nominee Paul Clements, a political science professor at Western Michigan University, 58.5%–36.4%.
2018
Upton was reelected with 50.2% of the vote against Democratic nominee Matt Longjohn (45.75%) and U.S. Taxpayers Party candidate Stephen Young (4.1%).[25]
2020
Upton was reelected with 55.9% of the vote against Democratic nominee Jon Hoadley (40.2%), Libertarian Party nominee Jeff Depoy (2.75%), and Green Party candidate John Lawrence (1.2%).[26]
Tenure
Upton has been a member of moderate Republican factions The Tuesday Group and the Republican Main Street Partnership.[27] On February 4, 2021, he joined 10 other Republican House members voting with all voting Democrats to strip Marjorie Taylor Greene of her House Education and Labor Committee and House Budget Committee assignments in response to controversial political statements she had made.[28]
Health care
Upton voted against passage of the Affordable Care Act (ACA) and has since voted in favor of its complete repeal. In November 2013, in response to Americans losing their health insurance coverage because of the ACA, Upton proposed a bill what would allow them to retain it.[29] The essence his bill was to allow insurance companies to maintain their individual insurance market policies according to state insurance rules that were in effect as of 2013.[30] In 2017, Upton played an import role advancing Republican Party efforts to repeal the ACA.[31]
In 2013, Upton introduced a bill that would grant the Food and Drug Administration more power to regulate drug compounding in the wake of the New England Compounding Center meningitis outbreak.[32] In 2016, Obama signed the 21st Century Cures Act[33] into law, a bill Upton co-sponsored. The act establishes funds for biomedical research and to develop and implement a strategic plan for biomedical research.[34] In 2018, Upton and Representative Debbie Dingell worked together on legislation designed to combat opioid addiction. Among other things, it would allocate funding for research into new, non-addictive pain relievers.[35]
Environment and energy
In 2007 Upton co-sponsored the Energy Independence and Security Act of 2007, which, among other things, mandated phased-in energy efficiency standards for most light bulbs.[36] At the time, he noted that the legislation, ultimately signed into law by President George W. Bush, would "help preserve energy resources and reduce harmful emissions, all while saving American families billions of dollars on their electric bills."[37] Glenn Beck called Upton "all socialist" for supporting the bill.[38]
In April 2009, Upton said that "climate change is a serious problem that necessitates serious solutions. Everything must be on the table."[39] But "Upton has gradually retreated from his moderate stance on climate change and carbon emissions."[40] He led a failed effort to stop the Obama administration from enforcing the new energy standards.[37]
Upton's website once stated: "I strongly believe that everything must be on the table as we seek to reduce carbon emissions."[40] In late 2010, he co-authored a Wall Street Journal opinion piece saying he was "not convinced" that "carbon is a problem in need of regulation" and urging Congress to overturn Massachusetts v. Environmental Protection Agency.[41]
Upton and Ed Whitfield co-sponsored H.R. 910, the Energy Tax Prevention Act of 2011.[42] Due to his environmental policies, The Los Angeles Times wrote in 2011 that Upton "represents one of the biggest threats to planet Earth on planet Earth."[43]
In 2012, Upton, as chair of the House Energy and Commerce Committee, said that Congress's refusal to set greenhouse gas limits "constituted a decision and that lawmakers should act now to reverse the EPA emissions rules." Carbon regulation, he said, "threatens to drive energy prices higher, destroy jobs and hamstring our economic recovery."[44]
On October 22, 2013, Upton introduced the North American Energy Infrastructure Act (H.R. 3301; 113th Congress), a bill that would make changes to permitting requirements for pipelines and other energy infrastructure at international borders.[45][46] He said the bill "is a sincere effort to focus a targeted solution to lessons learned from the Keystone Pipeline… No one can rightly argue that the current presidential permit process as the State Department is not broken, no matter what side of the climate debate you're on."[47] Upton added, "we're creating a fair and transparent approval process for cross-border energy projects, putting them all on a level playing field for the benefit of North American energy security, lower energy prices, and jobs."[48]
As of 2017, Upton has received more than $2 million in campaign donations from oil and gas companies and electric utilities over the course of his political career.[49] In 2018, he joined the Climate Solutions Caucus.[50]
Technology and infrastructure
Upton introduced legislation to reverse the FCC's ruling on net neutrality in 2015.[51][52] On November 5, 2021, Upton was one of 13 House Republicans to break with their party and vote with a majority of Democrats in favor of the Infrastructure Investment and Jobs Act.[53]
Guns
In 2019, Upton supported a bill that requires background checks for private firearm sales.[54] He has called for Congress to pass a bipartisan red flag law.[55]
In March 2021, Upton was one of eight Republicans to join the House majority in passing the Bipartisan Background Checks Act of 2021.[56]
LGBT rights
In 2004 and 2006, Upton voted for a constitutional amendment banning same-sex marriage.[57] In 2019, he voted against the Equality Act, which would extend existing civil rights legislation to protect LGBT individuals from discrimination.[57]
In 2013, Upton condemned controversial anti-gay remarks by Republican National Committeeman David Agema.[58]
Economy
In 2019, during the 116th Congress, Upton broke with his party, one of seven Republicans to side with Democrats by voting for legislation that would fund government services and end a shutdown.[59]
In February 2021, Upton voted against a $1.9 trillion COVID relief bill that provided $10 billion in federal aid to Michigan.[60]
Donald Trump
During Trump's presidency, Upton voted in line with Trump's stated position 78.6% of the time.[61]
In July 2019, Upton was one of four Republican House members to vote in support of a motion to condemn comments Trump made on Twitter calling on four Democratic Congresswomen, three of whom were born in the U.S., to "go back and help fix the totally broken and crime infested places from which they came."[62][63]
On December 18, 2019, Upton voted against both articles of impeachment against Trump.[64]
On January 12, 2021, Upton announced he would vote to impeach Trump in the pending vote on a second impeachment, after Trump incited the storming of the U.S. Capitol building, becoming the fourth House Republican to say they would vote to impeach.[65][66] He ultimately did so alongside nine other Republicans on January 13.[67] On January 21, the Allegan County Republican Party censured Upton for his vote to impeach Trump.[68] He was later censured by the Cass County Republican Party for voting to remove Marjorie Taylor Greene from the House Education Committee.[69]
On May 19, 2021, Upton was one of 35 Republicans who joined all Democrats in voting to approve legislation to establish the January 6 commission meant to investigate the storming of the U.S. Capitol.[70] Before the vote, he was one of few Republican lawmakers to openly express support for the commission.[71]
Iraq
In June 2021, Upton was one of 49 House Republicans to vote to repeal the AUMF against Iraq.[72][73]
Steve Bannon
On October 21, 2021, Upton was one of nine House Republicans who voted to hold Steve Bannon in contempt of Congress.[74]
Committee assignments
Caucus memberships
Congressional Automotive Caucus[75] (Co-Vice Chair)
Congressional Competitiveness Caucus[76]
Congressional Travel and Tourism Caucus[76]
Diabetes Caucus[76]
India Caucus[76]
Indian-Americans Caucus[76]
Sportsmen's Caucus[76]
Bipartisan Climate Solutions Caucus
Personal life
Upton's grandfather and namesake, Frederick Upton, was co-founder with his brother Louis Upton of appliance manufacturer and marketer Whirlpool Corporation, headquartered in Benton Harbor. He and his wife have two children.[83] Upton's niece is supermodel Kate Upton.[84][85] Open Secrets reported that Upton had a net worth of $78 million in 2018, making him one of Congress's richest members.[86]
Upton is a supporter of Michigan Wolverines athletics, as well as an enthusiastic Chicago Cubs baseball fan.[4] He is a member of the Emil Verban Society.[83]
Electoral history
See also
References
External links
Recent Elections
2018 US Representative for 6th
| | | |
| --- | --- | --- |
| Fred Upton (R) | 147,436 | 50.2% |
| Matt Longjohn (D) | 134,082 | 45.7% |
| Stephen J. Young () | 11,920 | 4.1% |
| TOTAL | 293,438 | |
Source: Ballotpedia
Finances
UPTON, FREDERICK STEPHEN (FRED) has run in 6 races for public office, winning 5 of them. The candidate has raised a total of $17,960,170.
Source: Follow the Money
Committees
Committees
Subcommittees
Subcommittee on Energy
Subcommittee on Health
Subcommittee on Consumer Protection and Commerce
Voting Record
See: Government Page
Issues
Source: Government page
Committees
Committee on Energy and Commerce
Legislation
Sponsored and Cosponsored
Issues
Economy
Agriculture has always had strong roots in Michigan, where our farmers produce everything from asparagus to zucchini. As Michigan continues its economic recovery, agriculture remains a driving force in our economy and provides many good-paying,
My top priority is promoting job creation and economic growth here at home in Southwest Michigan. With the coronavirus crisis, we are facing a number of new challenges on the economic front.
Education
As a father of two and a former member of the House Committee on Education and the Workforce, I understand the importance of ensuring that our youngest citizens receive a quality education.
Environment
Growing up on the shores of Lake Michigan has instilled in me a deep appreciation for Michigan's wildlife and natural resources.
Health Care
It's no secret that we need to make real reforms in our health care system to expand access to quality care for all Americans and reduce costs.
From the beginning, I have been working with my colleagues on both sides of the aisle to address the health crisis and economic crisis caused by the coronavirus pandemic.
Infrastructure
Throughout my tenure, I have worked to increase the deployment of telecommunications services to all American families and businesses. These new tools have helped create incredible job and economic growth.
Veterans
We owe our nation's veterans and their families a great debt for their tremendous sacrifices. I take very seriously my duty to the brave men and women who have served our country, and I have a strong record of supporting our veterans.