Summary
Current Position: US Representative for MI 3rd District since 2021
Affiliation: Republican
Overview: N/A
News
2 US lawmakers' Kabul trip prompts Biden administration fury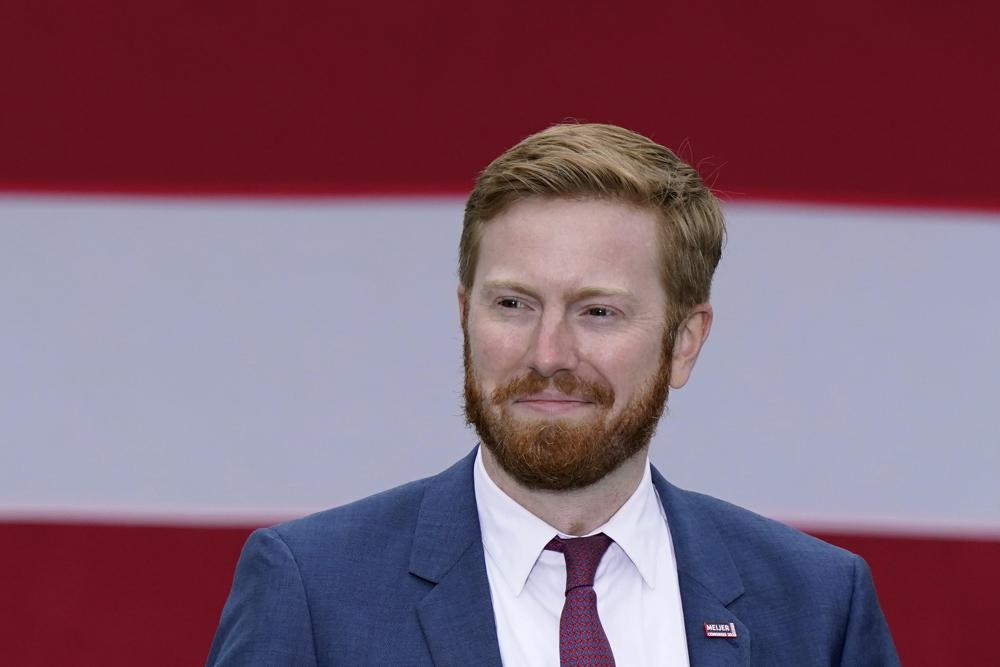 WASHINGTON (AP) — Two members of Congress flew unannounced into Kabul airport in the middle of the chaotic evacuation stunning State Department and U.S. military personnel who had to divert resources to provide security and information to the lawmakers, U.S. officials said.
Rep. Seth Moulton, D-Mass., and Rep. Peter Meijer, R-Mich., flew in and out on charter aircraft and were on the ground at the Kabul airport for several hours Tuesday. That led officials to complain that they could be taking seats that would have otherwise gone to other Americans or Afghans fleeing the country, but the congressmen said in a joint statement that they made sure to leave on a flight with empty seats.
"As Members of Congress, we have a duty to provide oversight on the executive branch,'" the two said in their statement. "We conducted this visit in secret, speaking about it only after our departure, to minimize the risk and disruption to the people on the ground, and because we were there to gather information, not to grandstand."
i
News from Congressman Peter Meijer
Twitter
About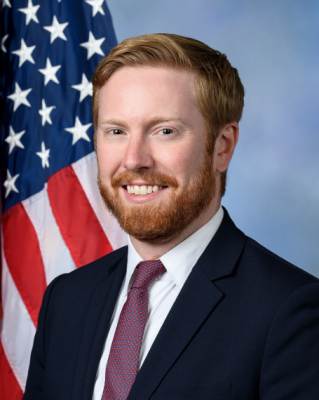 Source: Government page
Peter is a proud fourth generation West Michigander, born and raised in Grand Rapids. Peter's grandfather, Fred Meijer, inspired Peter to pursue a path of purpose and service, and instilled in him a love for West Michigan.
After graduating high school, Peter's first step on his path of purpose was spending a year at the United States Military Academy at West Point. Soon thereafter, Peter enlisted in the Army reserves and deployed to Iraq.
In 2010, Peter deployed to Iraq as a non-commissioned officer, setting aside his studies to serve with an intelligence unit at joint US-Iraqi bases in the Baghdad area.
In Iraq, Peter conducted intelligence operations to protect American and allied forces. As a sergeant, he led soldiers and missions that resulted in the detention of enemy operatives responsible for killing American soldiers and disrupted Iranian-backed efforts to take more American lives.
After returning from Iraq in 2011 and finishing his studies at Columbia University, Peter joined Team Rubicon, a veteran-based disaster response organization. With Team Rubicon, Peter led humanitarian efforts in South Sudan dealing with a refugee crisis. He also led operations in New York after Superstorm Sandy, Oklahoma after a series of devastating tornadoes, and in the Philippines after Super Typhoon Yolanda.
While in the Philippines, Peter accepted a job with a conflict analysis NGO in Afghanistan,. On Christmas Day 2013 he arrived in Kabul and advised the aid community there on the safety and security issues critical to their mission.
Peter ran the NGO's advisory operations in southern Afghanistan from Kandahar City, managing a large team to help aid workers safely deliver much-needed assistance to the Afghan people. Peter last served as acting Deputy Director for Afghanistan, delivering emergency assistance to aid workers after kidnappings and targeted killings.
After leaving Afghanistan, Peter pursued his MBA at New York University then returned to Michigan to work in urban redevelopment and real estate. A passion for service, and for West Michigan, compelled Peter to continue to serve his community by running for Congress.
With the unwavering support of his team, family and wife Gabriella, Peter Meijer was sworn in as the Congressman for Michigan's 3rd Congressional District on January 3rd, 2021.
Voting Record
Caucuses 
Offices
1508 Longworth House Office Building
Washington, DC  20515
Contact
Email:
Web
Government Page, Campaign Site, Twitter, Facebook, LinkedIn, Wikipedia
Politics
Source: none
Campaign Finance
Open Secrets – We Follow the Money
Voting Record
VoteSmart – Key Votes & Ratings
Search
Wikipedia Entry
Peter James Meijer (/ˈmaɪ.ər/; born January 10, 1988) is an American politician and business analyst serving as the U.S. representative for Michigan's 3rd congressional district since 2021.[4] The district is based in Grand Rapids. He is a member of the Republican Party.
He is a member of the Meijer family, the founders and owners of the Meijer superstore chain.[5] Meijer was one of ten Republicans who voted to impeach Donald Trump during Trump's second impeachment.[6][7]
Early life and education
Meijer was born in Grand Rapids, Michigan. He is the oldest son of Hank Meijer and the grandson of Frederik Meijer, whose father, Hendrik Meijer, founded supermarket chain Meijer after he emigrated to the United States from the Netherlands.[5][8] Forbes has recognized his family as one of the wealthiest in Michigan, with a net worth above $6 billion.[8] His financial disclosures list more than $50 million in assets, primarily from a Meijer family trust.[9][10]
Meijer graduated from East Grand Rapids High School in 2006.[11] He initially studied for one year at the United States Military Academy at West Point before transferring to Columbia University in 2008, graduating with a bachelor's degree in cultural anthropology in 2012.[8][12] At Columbia, he was an advocate for reinstating the Reserve Officers' Training Corps on campus.[13] He was also a volunteer emergency medical technician for Columbia University's emergency medical services. From 2008 to 2016, Meijer served in the United States Army Reserve and was deployed to Iraq from 2010 into 2011, serving as an intelligence advisor.[8][12][14]
In 2017, Meijer graduated from the New York University Stern School of Business with a Master of Business Administration.[8]
Career
From 2013 to 2015, Meijer worked as a conflict analyst for an international NGO.[8] He was later employed by Olympia Development of Michigan of Ilitch Holdings as an analyst from April 2018 to January 2019.[8] During this time, Meijer also worked on veterans projects such as Project Rubicon, was on the advisory board of the With Honor super political action committee, and assisted with urban renewal projects throughout Michigan.[12]
U.S. House of Representatives
Elections
2020
Following Justin Amash's departure from the Republican Party in July 2019, Meijer announced his candidacy for Michigan's 3rd congressional district, competing in the Republican primary. He voiced his support for Trump, saying he would work with Trump to "make sure that we advance policies and an agenda that is in the best interest of West Michigan."[8] In his primary campaign, Meijer received funding from several wealthy Michigan-based business families and outraised the other Republican candidates.[15]
The DeVos and Van Andel families, who co-founded Amway, contributed to Meijer's campaign, though United States Secretary of Education Betsy DeVos and her husband Dick DeVos abstained from fundraising efforts.[15] Mark J. Bissell of Bissell home-care products and the late businessman Peter Secchia also donated to Meijer's campaign.[15] Vice President Mike Pence, Representative Dan Crenshaw,[16] House Minority Leader Kevin McCarthy,[17] House Minority Whip Steve Scalise,[18] and Senator Tom Cotton endorsed Meijer.[19] Meijer defeated Lynn Afendoulis in the August 4 primary election. Meijer faced Democratic nominee Hillary Scholten in the general election.[20] He raised $2.7 million during the campaign, to Scholten's $3 million.[21] The 3rd has historically tilted Republican; the district and its predecessors have been in GOP hands for all but 35 months since 1913 (it was numbered as the 5th before 1993). But the race was very close; Cook Political Report rated it a toss-up.[22]
Ultimately, Meijer defeated Scholten, 53%-47%.[23] It was the closest race in the district since Harold S. Sawyer was held to 53% in what was then the 5th district in 1982,[24] and only the second time since 1982 that a Democrat had managed 40% of the vote (Amash's Democratic opponent had taken 43% two years earlier[25]). He ran slightly ahead of Trump, who narrowly carried the district with 51% of the vote.[26]
Tenure
Meijer accepted the 2020 presidential election results, announcing publicly that he accepted the outcome and recognized Joe Biden as president-elect.[27] After experiencing the 2021 storming of the United States Capitol, he called on Republicans to take responsibility for their "lies" about election fraud.[28] On January 13, 2021, he voted to impeach Donald Trump alongside nine other Republicans.[29][7] The next day, Meijer stated in an interview with MSNBC that he had purchased body armor and made changes to his daily schedule due to threats against his life in reaction to his vote for impeachment.[30] On January 20, 2021, the day of the inauguration of Joe Biden, Meijer was one of 17 newly elected House Republicans to sign a letter congratulating Biden and expressing hope of working across the partisan divide.[31]
On May 23, 2021, Meijer condemned Representative Marjorie Taylor Greene's comparison between having to wear face masks on the House and the Holocaust. He was the first Republican to condemn Greene's remarks and said that "such comparisons demean the Holocaust and contaminate American political speech."[32]
On August 24, 2021, Meijer and Representative Seth Moulton flew unannounced into Hamid Karzai International Airport during the 2021 Taliban offensive amid evacuation of Americans and allies. The Defense Department and House Speaker Nancy Pelosi were not given advance notice.[33][34] The next day, Pelosi sent a letter to all House members saying that "the Departments of Defense and State have requested that Members not travel to Afghanistan and the region during this time of danger" because such travel "would unnecessarily divert needed resources" from the evacuation efforts.[33]
Voting record
On May 19, 2021, Meijer became one of 35 Republicans who joined all Democrats in voting to approve legislation to establish the January 6, 2021 commission meant to investigate the storming of the U.S. Capitol.[35]
In June 2021, Meijer was one of 49 House Republicans to vote to repeal the AUMF against Iraq.[36][37]
In 2021, Meijer was one of 29 Republicans to vote to reauthorize the Violence Against Women Act.[38] This bill expanded legal protections for transgender people, and contained provisions allowing transgender women to use women's shelters and serve time in prisons matching their gender identity.[39]
On October 21, 2021, Meijer was one of nine House Republicans who voted to hold Steve Bannon in contempt of Congress.[40]
Committee assignments[41]
Caucus memberships
References
External links
Issues
Source: Government page
Committees
In the 117th Congress, Representative Meijer serves on the Committee on Homeland Security as Ranking Member of the Subcommittee on Oversight, Management, & Accountability, Committee on Foreign Affairs, and the Space Science & Technology Committee.
For more information on the Congressman's Committee assignments, please visit the links below:
Committee on Homeland Security
Committee on Science, Space, & Technology
Legislation
Sponsored and Cosponsored
Issues