Summary
Current Position: US Representative for MI 1st District since 2017
Affiliation: Republican
Former Position(s): Marine Corp from 1969 – 2009
Other Positions:  
Ranking Member, Subcommittee on Oversight and Investigations- Committee on Veterans' Affairs
Featured Quote: 
Unregistered lobbying activity is, in itself, enough to warrant investigation. But lobbying efforts on behalf of the @StimsonCenter raises grave concerns of ongoing foreign government influence operations that undermine our Nation's legislative process.
Featured Video: 
Introducing Rep. Jack Bergman
News
Retired U.S. Marine Corps Lieutenant General and U.S. Representative Jack Bergman gave 9&10 News his reaction to Thursday's attacks outside the Kabul airport.
"Those Marines and Corps Men who were killed yesterday, they did not die in vain," said Rep. Bergman. "Those of us who sign up to go to the military know we're going in harms way to protect our citizens both at home and abroad, and we will do the right thing militarily to protect all our citizens."
He says while the attacks yesterday in Kabul were predictable, they also could have been avoided.
Twitter
About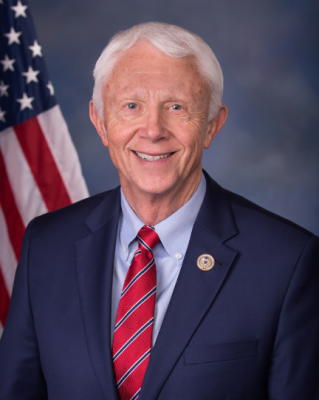 Source: Government page
Growing up in the Midwest, Jack Bergman's parents instilled in him the values that drive the American Dream: If you work hard, never quit, and strive for excellence, you will find success. Those values are what guided him to the rank of Lt. General in the United States Marine Corps, empowered him to successfully own and operate a small business, and allowed him to enjoy a 22-year career as a commercial airline pilot.
The Bergman family roots in Michigan's Upper Peninsula stretch back to the late 1800's where his ancestors worked as iron miners. Serving his country in uniform for 40 years, Jack has spent time all around the United States – and world. Nearly three decades ago, Jack and his wife Cindy settled in Watersmeet, on the western edge of Michigan's beautiful Upper Peninsula.
Jack is a grandfather to eight grandchildren, and one great-grandchild. This has always been one of the largest factors in his service in Congress. When Jack sees what is happening in Washington, he knows that we are not doing our best at leaving our children and grandchildren a better place. From his business to his distinguished military career, and now in Congress – Jack Bergman does not accept the status-quo as an acceptable path forward. Jack is driven by his commitment to serving others. While in the military, he launched two successful startup businesses in the medical equipment field, maintaining an obligation to both his nation and his customers simultaneously. As an entrepreneurial leader focused on mission accomplishment and customer satisfaction, Jack knows how to get things done.
Hard work and commitment made the United States the most exceptional nation in the world. Those are the principles that have guided Jack's life, and are the principles that he is bringing to Washington. He believes what most Michiganders believe: Americans know how to live their lives better than politicians or bureaucrats do. Jack's life has been dedicated to service and defending the Constitution. He is the highest ranking combat Veteran to have ever served in the U.S. House. He is shaking up the status quo in both Congress and will continue defending the United States from those who want to weaken it, both domestically and abroad.
Voting Record
Caucuses 
Republican Study Committee
Climate Solutions Caucus
U.S.-Japan Caucus.
Offices
Washington, DC Office
566 Cannon House Office Building
Washington, DC 20515
202-225-4735

Traverse City Office
1396 Douglas Drive, Suite 22B
Traverse City, MI 49696
231-944-7633

Gwinn Office
K.I. Sawyer 125 G Avenue, Suite B
Gwinn, MI 49841
906-273-2227

Manistique Office
7676W County Road 442, Suite B
Manistique, MI 49854
906-286-4191
Experience
Work Experience
Education
Contact
Email:
Offices
Washington, D.C.
414 Cannon House Office Building
Washington, DC 20515
Phone: 202-225-4735
Traverse City
1396 Douglas Drive, Suite 22B
Traverse City, MI 49696
Phone: 231-944-7633
Gwinn
K.I. Sawyer 125 G Avenue, Suite B
Gwinn, MI 49841
Phone: 906-273-2227
Manistique
7676W County Road 442, Suite B
Manistique, MI 49854
Phone: 906-286-4191
Web
Government Page, Twitter, Facebook, Campaign Site, Wikipedia
Politics
Source: none
Campaign Finance
Open Secrets – We Follow the Money
Voting Record
VoteSmart – Key Votes & Ratings
Search
Wikipedia Entry
John Warren "Jack" Bergman (born February 2, 1947) is a retired United States Marine Corps lieutenant general and the U.S. representative for Michigan's 1st congressional district. He served as commanding general of the Marine Forces Reserve and the Marine Forces North. He also served as a naval aviator, flying rotary-winged aircraft such as the CH-46 and UH-1, as well as fixed-wing aircraft such as the T-28 and KC-130. A Republican, he was elected to the U.S. House of Representatives in 2016.[1][2]
Early life and education
Bergman was born on February 2, 1947, in Shakopee, Minnesota,[3] and received his undergraduate degree from Gustavus Adolphus College in 1969.[4] He subsequently earned an M.B.A. degree from the University of West Florida.[5] His formal military education includes Naval Aviation Flight Training, Amphibious Warfare School, Marine Corps Command & Staff College, Landing Force Staff Planning (Marine Expeditionary Brigade [MEB] and Air Command Element [ACE]), Reserve Component National Security and Naval War College Strategy & Policy, Syracuse University National Security Seminar, Combined Forces Air Component Command, LOGTECH, and CAPSTONE.
Military career
After graduating from college, Bergman was a commissioned second lieutenant in the Marine Corps Reserve in 1969[6] under the Platoon Leader School program. He flew CH-46 helicopters with HMM-261 at Marine Corps Air Station, New River, North Carolina, and with HMM-164 in Okinawa, Japan, and the Republic of Vietnam. Assigned as a flight instructor, he flew the T-28 with VT-6, NAS Whiting Field, Florida. He left active duty in 1975 and flew UH-1 helicopters with the Rhode Island National Guard, Quonset Point, Rhode Island.
After a 1978 civilian employment transfer to Chicago, Bergman transferred from the Rhode Island National Guard back to the Marine Corps Reserve, where he served in several 4th Marine Aircraft Wing units at NAS Glenview, Illinois: HML-776, flying the UH-1; VMGR-234, flying the KC-130; and Mobilization Training Unit IL-1. He was selected to stand up the second KC-130 squadron in 4th MAW and in 1988 became the first commanding officer of VMGR-452, Stewart Air National Guard Base (ANGB), Newburgh, New York. From 1992 to 1994 he commanded Mobilization Station, Chicago.
In 1995, he was a special staff officer at Marine Corps Reserve Support Command, Overland Park, Kansas. In 1996, he became chief of staff/deputy commander of I Marine Expeditionary Force Augmentation Command Element, Camp Pendleton, California. In 1997, he transferred to the 4th Marine Aircraft Wing Headquarters, New Orleans, to serve as assistant chief of staff/G-1. Promoted to brigadier general, he became deputy commander of the 4th Marine Aircraft Wing.
Transferred in June 1998 to Headquarters, Marine Forces Europe, Stuttgart, Germany, Bergman served as deputy commander. Recalled to active duty from April to July 1999, he was dual-hatted as EUCOM, Deputy J-3A. He then commanded II Marine Expeditionary Force Augmentation Command Element, Camp Lejeune, North Carolina, until assuming command of the 4th Marine Aircraft Wing, New Orleans, Louisiana in August 2000.
In September 2002, Bergman assumed command of the 4th Force Service Support Group, New Orleans, Louisiana. He also served as chairman of the Secretary of the Navy's Marine Corps Reserve Policy Board from 2001 to 2003. Returning to active duty in October 2003, he served as director of Reserve Affairs, Quantico, Virginia. He began his final assignment, command of the Marine Forces Reserve/Marine Forces North, on June 10, 2005. He relinquished that command in October 2009 and retired from active duty in December of that year.
U.S. House of Representatives
Elections
2016
Bergman won the Republican primary in Michigan's 1st congressional district in August 2016. He defeated Democratic nominee Lon Johnson and Libertarian nominee Diane Bostow in the November general election.[2] Bergman, who was elected to succeed retiring Republican Representative Dan Benishek, won 55% of the vote to Johnson's 40% and Bostow's 4%.[7][8]
The district covers all of Michigan's Upper Peninsula and the northern part of the Lower Peninsula.
Tenure
Bergman assumed office on January 3, 2017. He is a member of the Republican Study Committee, the Climate Solutions Caucus[9] and the U.S.-Japan Caucus.[10]
In June 2017, Bergman was one of the Republican congressmen who were practicing on an Alexandria, Virginia, baseball field for the annual Congressional Baseball Game when James Hodgkinson began shooting at them, harming four people, including Representative Steve Scalise.[11] Afterward, Bergman blamed the incident on anti-GOP rhetoric and the media.[12]
As of January 2022, Bergman has voted with President Biden's stated position roughly 6% of the time.[13]
Committee assignments[14]
Caucus memberships
Political positions
Spending and budget
In March 2016, Bergman said that cutting spending would be his top priority in Congress.[16]
In a July 2016 television interview, Bergman said his three top priorities were to "get Congress working together" instead of being preoccupied with partisan division, to "utilize the Constitution", and to pass a balanced budget amendment.[17]
In March 2021, all House Republicans including Bergman voted against the American Rescue Plan Act of 2021, an economic stimulus bill aimed at speeding up the United States' recovery from the economic and health effects of the COVID-19 pandemic and the ongoing recession.[18]
Healthcare
Bergman opposes the Affordable Care Act and voted to repeal it in May 2017.[19]
Environment
In September 2017, Bergman became the 29th Republican to join the Climate Solutions Caucus.[20]
Bergman voted in favor of the Tribal Coastal Resiliency Act, which would allow the Department of Commerce to award grants to Native American tribes for historical preservation, environmental protection, and climate change mitigation in the Great Lakes.[21][22]
Military
Bergman sided with President Trump on barring transgender individuals from the military.[23]
2020 presidential election
After Joe Biden won the 2020 presidential election and Trump refused to concede, Bergman announced he would oppose the confirmation of the Electoral College's vote in Congress.[24]
In December 2020, Bergman was one of 126 Republican members of the House of Representatives to sign an amicus brief in support of Texas v. Pennsylvania, a lawsuit filed at the United States Supreme Court contesting the results of the 2020 presidential election, in which Biden defeated[25] Trump.[26]
In January 2021, Bergman announced his intention to object to the certification of the Electoral College results.[24][27]
Awards and decorations
Bergman's military awards include:
Medals and ribbons
Personal life
Bergman lives in Watersmeet, on the western edge of Michigan's Upper Peninsula, with his wife Cindy.[29] They have ten grandchildren.
References
External links
Recent Elections
2018 US Representative for 1st
| | | |
| --- | --- | --- |
| Jack Bergman (R) | 187,251 | 56.3% |
| Matthew Morgan (D) | 145,246 | 43.7% |
| TOTAL | 332,497 | |
Source: Ballotpedia
Finances
Source: Follow the Money
Committees
Committees
House Armed Services Committee
In his second term, Congressman Bergman is honored to serve as a member of the House Armed Services Committee. As we face uncertain times, military readiness and proper funding are essential. As new threats emerge, our military must remain the strongest and most lethal force in the world. Accountability and oversight are paramount as we work to ensure every dollar spent on defense is maximized to best protect our nation and our allies. As with all Committee assignments, Rep. Bergman will seek to utilize his role on the House Armed Services Committee to represent the needs of Michigan's First District.
Congressman Bergman served in the United States Marine Corps for 40 years, as a helicopter pilot in Vietnam, and most recently as Commander of Marine Forces North/Marine Forces Reserve. He retired in 2009 at the rank of Lieutenant General. After being elected in November 2016, Bergman became the highest ranking combat Veteran ever elected to Congress.
House Veterans Affairs Committee
Serving on the House Committee on Veteran's Affairs is a passion of Congressman Bergman's. Michigan's 1st District has one of the highest percentage of Veterans of any Congressional District in the country. These Veterans have sacrificed so much for the liberty of our country and he is dedicated to working on their behalf in Washington, D.C. He has served for two years on the committee where he helped author groundbreaking Veterans' legislation and held multiple field hearings and round-table discussions in Michigan's First District.
We made major strides in the 115th Congress by passing the VA MISSION Act, streamlining the VA bureaucracy, and ensuring accountability at VA. Congressman Bergman looks forward to continuing the work we've begun to ensure our Veterans are receiving the quality care they deserve.
Subcommittees
Seapower and Projection Forces
Military Personnel
Readiness
Oversight and Investigations
Voting Record
See: Government Page
Issues
Committees
Committee on Armed Services

Subcommittee on Seapower and Projection Forces
Subcommittee on Readiness
Subcommittee on Military Personnel

Committee on Veterans' Affairs

Subcommittee on Economic Opportunity
Subcommittee on Oversight and Investigations (Ranking Member)
Legislation
Issues