Summary
Current Position: US Representative for MI 4th District since 2015
Affiliation: Republican
Former Position(s): State Senator from 2011 – 2014; State Delegate from 2003 – 2008
Featured Quote: 
Congress should never allow the money of hardworking taxpayers to be used to end the lives of unborn children. We should continue to protect unborn children and keep the Hyde Amendment. #HydeSavesLives
Featured Video: 
Moolenaar: "Michigan Farm Convoys Represent the Best of America"
News
On Thursday, the U.S. Department of Transportation announced a new $3.4 million grant for MBS International Airport in Freeland. The $3,474,533 grant will be used to install airfield guidance signs and rehabilitate the taxiway and taxiway lighting.
"MBS provides important flight service to mid Michigan and this funding will allow the airport to make major improvements to its infrastructure," said U.S. Rep. John Moolenaar, R-Midland. "MBS is a critical part of the economy of the Great Lakes Bay Region and this grant will help the airport continue to serve passengers who live in and visit our state."
Twitter
About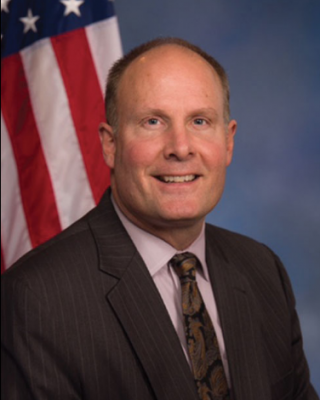 Source: Government page
Congressman John Moolenaar represents the residents of Michigan's Fourth Congressional District. He is currently a member of the House Appropriations Committee.
Moolenaar brings years of leadership experience in the private and public sectors to Congress. He has worked as a chemist and business development director, and as a school administrator.
As a public servant, Moolenaar has been elected to the Midland City Council, the Michigan House of Representatives, and the Michigan Senate. Moolenaar was born and raised in Midland, where he now lives with his wife, Amy, and together they have raised six children. He has a bachelor's degree in chemistry from Hope College and a master's degree in Public Administration from Harvard University.
Voting Record
Caucuses 
Congressman Moolenaar is also co-founder and co-chairman of the bipartisan Congressional Chemistry Caucus.
Offices
117 Cannon House Office Building
Washington, DC 20515
201 North Mitchell Street
Suite L4
Cadillac, MI 49601
Phone: (231) 942-5070
Fax: (231) 876-9505
The Cadillac office is a satellite office.
It is staffed from 9:00 AM – 4:00 PM on Monday, Tuesday and Thursday, with time reserved for lunch at noon.
Visitors are encouraged to call ahead, as staff may be working in the district.  If immediate assistance is needed, please contact the Midland office.
200 East Main Street
Suite 230
Midland, MI 48640
Phone: (989) 631-2552
Fax: (989) 631-6271
Below you can find information for the Midland District office. You are welcome to phone or send a message to us through the U.S. Postal Service. Please note that postal mail is the slowest method for contacting us. All postal mail sent to our offices must be scanned for security purposes, which means it will take an additional two weeks for us to receive it. If you prefer, you may contact us by e-mail.
Experience
Work Experience
Education
Contact
Email:
Offices
Washington, D.C.
117 Cannon House Office Building
Washington, DC 20515
Phone: Phone: (202) 225-3561
Cadillac
201 North Mitchell Street
Suite L4
Cadillac, MI 49601
Phone: Phone: (231) 942-5070
Midland
200 East Main Street
Suite 230
Midland, MI 48640
Phone: Phone: (989) 631-2552
Web
Government Page, Campaign Site, Twitter, YouTube, Facebook, Wikipedia
Politics
Source: none
Campaign Finance
Open Secrets – We Follow the Money
Voting Record
VoteSmart – Key Votes & Ratings
Search
Wikipedia Entry
John Robert Moolenaar (/ˈmoʊlənɑːr/ MOLE-ən-arr; born May 8, 1961) is an American politician serving as the U.S. Representative for Michigan's 4th congressional district since 2015. A member of the Republican Party, he served in the Michigan House of Representatives from 2003 to 2008 and the Michigan Senate from 2011 to 2014.[1]
Early life and education
Moolenaar was born in a family of Dutch Americans on May 8, 1961, in Midland, Michigan. In 1983, he earned a Bachelor of Science degree from Hope College. He earned a Master of Public Administration from Harvard University in 1989.
Career
Moolenaar is a chemist, and worked at Dow Chemical Company for eight months before entering politics.[2] He was elected to the Michigan House of Representatives in 2002, where he served three terms. In 2010, he was elected to the Michigan Senate, where he served one term.[3] Before his election to the legislature, Moolenaar served on the Midland City Council.[4]
In 2014, Moolenaar ran for the United States House of Representatives seat representing Michigan's 4th congressional district. He won the Republican primary election in August, defeating Paul Mitchell,[5] and the general election in November.
Moolenaar and fellow Michigan representative Andy Levin have introduced legislation to delay any deportations of Iraqis to Iraq for two years.[6]
In December 2020, Moolenaar signed an amicus brief before the United States Supreme Court in Texas v. Pennsylvania, et al., which sought to overturn the 2020 United States presidential election results.[7]
Elections
Moolenaar was elected to represent the 36th district in the Michigan State Senate in 2010. He defeated Democrat Andy Neumann in the November 2 general election, 56,634 votes to 32,154.
Moolenaar ran in the 2014 election for the U.S. House to represent Michigan's 4th District. He won the Republican nomination in the August 5 primary against Paul Mitchell and Peter Konetchy. He defeated Jeff Holmes (D), Will Tyler White (Libertarian) and George Zimmer (U.S. Taxpayers) in the November 4 general election.
U.S. House of Representatives
Committee assignments
Caucus memberships
Tenure
In December 2020, Moolenaar was one of 126 Republican members of the House of Representatives to sign an amicus brief in support of Texas v. Pennsylvania, a lawsuit filed at the United States Supreme Court contesting the results of the 2020 presidential election, in which Joe Biden defeated[11] incumbent Donald Trump. The Supreme Court declined to hear the case on the basis that Texas lacked standing under Article III of the Constitution to challenge the results of an election held by another state.[12][13][14]
House Speaker Nancy Pelosi issued a statement that called signing the amicus brief an act of "election subversion." She also reprimanded Moolenaar and the other House members who supported the lawsuit: "The 126 Republican Members that signed onto this lawsuit brought dishonor to the House. Instead of upholding their oath to support and defend the Constitution, they chose to subvert the Constitution and undermine public trust in our sacred democratic institutions."[15][16] New Jersey Representative Bill Pascrell, citing section three of the 14th Amendment, called for Pelosi to not seat Moolenaar and the other Republicans who signed the brief supporting the suit, arguing that "the text of the 14th Amendment expressly forbids Members of Congress from engaging in rebellion against the United States. Trying to overturn a democratic election and install a dictator seems like a pretty clear example of that."[17]
References
External links
Recent Elections
2020 US Representative for 4th
| | | |
| --- | --- | --- |
| John Moolenaar (L) | 178,510 | 62.6% |
| Jerry Hillard (D) | 106,540 | 37.4% |
| TOTAL | 285,050 | |
Source: Ballotpedia
Finances
MOOLENAAR, JOHN R has run in 8 races for public office, winning 7 of them. The candidate has raised a total of $4,907,912.
Source: Follow the Money
Committees
Committees
House Committee on Appropriations
Subcommittees
Labor, Health and Human Services, Education and Related Agencies
Agriculture, Rural Development, Food and Drug Administration, and Related Agencies
Voting Record
See: Government
Issues
Committees
Committees
Congressman John Moolenaar is on the following committees:
House Committee on Appropriations
House Committee on Appropriations: Subcommittee on Agriculture, Rural Development, Food and Drug Administration and Related Agencies
House Committee on Appropriations: Subcommittee on Labor, Health and Human Services, Education and Related Agencies
Legislation
Learn more about legislation sponsored and co-sponsored by Congressman Moolenaar.
Issues
Governance
The hardworking families of mid and northern Michigan understand how to balance their checkbook and it's about time the federal government does the same. Excessive spending in Washington has been unchecked for too long, and as a result, our nation faces over $20 trillion in debt. Plain and simple, our obligations are growing faster than our ability to pay them.
We must find a way to get the federal government's spending under control and restore confidence in our economy. As a member of the House Committee on Appropriations, I support legislation that promotes fiscal responsibility, accountability and puts our nation on a brighter path for our children and grandchildren. Ultimately, I believe the strength of our economy is the thousands of people and businesses like those in Michigan's Fourth District, not with government spending.
American leadership ensures global stability. We must use all possible diplomatic tools to partner with our allies and further the interests of the American people. We must also hold countries and organizations accountable for their actions and use sanctions when necessary to show the resolve of United States to stand up to rogue regimes that wish to harm our country.
Civil Rights
I believe that everyone has an unalienable right to life and that life begins at conception. We must work to protect life and ensure that every child has the opportunity to live life to the fullest.
Second Amedment
As a supporter of the Second Amendment, I believe the right to bear arms is a fundamental principle upon which the founders built our nation. This right must be preserved for future generations.
Democracy
Congress should lead by example to reduce federal spending and the national debt. Since 2010, Congress has passed legislation to freeze the pay of legislators. Members of Congress and their staff are also required to participate in the health care exchanges set up by the Affordable Care Act.
Economy
Jobs and the Economy
Education
Scientific and technological discoveries have made our country a global economic leader. I support efforts aimed at spurring innovation, which will lead to economic growth and create jobs for the American people. Additionally, I believe we should encourage our children to become the scientists and engineers of tomorrow. I support efforts to increase access to Science, Technology, Engineering, and Mathematics (STEM) programs in order to inspire children to pursue these fields.
Environment
I strongly support the Great Lakes Restoration Initiative (GLRI). Since the initiative was launched in 2010, GLRI funds have been used to support over 3,000 restoration projects to improve water quality, protect and restore native habitat, fight invasive species, and prevent beach closings. I will continue to work across the aisle to ensure funding for protecting the Great Lakes.
Health Care
I am a member of the House Appropriations Committee and the subcommittee with oversight of HHS and its response to the opioid crisis. I support funding for states to combat the opioid crisis and I have also backed legislation funding research into new pain relief treatments so patients can safely recover without the risk of addiction. I have also supported funding that will help our country find cures for cancer and Alzheimer's. These diseases rob us of our loved ones and we must continue research that will bring us closer to finding life-saving treatments.
Infrastructure
Transportation and Infrastructure
It is well known that Michigan put the world on wheels; however, Michigan is also home to the linchpin of the North American industrial economy, the Soo Locks. An extended, unscheduled closure of this single lock would have devastating effects felt across the country. The U.S. Army Corps of Engineers must work with Congress and local stakeholders to build a replacement lock. I am committed to working with the Corps and my colleagues in Congress to bring this vital project to fruition.
Social Security
I believe that Congress must keep the promises made to our nation's seniors. While many programs, like Social Security and Medicare, face problems with their long-term financial solvency, any changes to these programs must should only be made if they do not affect the benefits retirees and individuals nearing retirement receive.
Veterans
Our nation's veterans and wounded warriors have sacrificed in defense of our country. Their dedication and commitment, along with that of their families, has ensured our freedom and should never be taken for granted.
Our veterans deserve the absolute highest quality medical care and benefits for their service. We must ensure that returning military members have access to every benefit they have been promised, As such, Congress should focus on stringent oversight of the VA to ensure veterans are getting the services they need. I will continue to put our veterans first, and fight for legislation that removes barriers for our returning veterans.