Summary
Current Position: US Representative for MI11th District since 2019
Affiliation: Democrat
Featured Quote: 
Today, my amendment with @repmeijer to the @nist reauthorization bill passed through @HouseScience. This addition to the bill will provide funding to expand MEP center's workforce development efforts and will promote the resiliency of domestic supply chains!
Featured Video: 
Haley Stevens Gives Passionate Speech About 'Scourge' Of Gun Violence
News
Members of Congress are continuing to call for the release of Americans wrongfully detained in Russian prisons.
On Thursday, U.S. Reps. Haley Stevens (MI-11) and August Pfluger (TX-11 ) held a press conference Thursday with family members of Paul Whelan, a Michigan native, and Trevor Reed, a Texas native, as well as members of the House Foreign Affairs Committee.
Whelan, 51, a Novi resident, traveled to Moscow in December 2019 to attend a wedding of a personal friend. On Dec. 28, he was arrested by Russia's Federal Security Service at the Metropol Hotel in Moscow who later charged him with espionage. Even though prosecutors never presented any evidence to prove his alleged wrongdoing, Whelan was sentenced on June 15, 2020 to 16 years in a Mordovian labor camp.
"Today marks 944 days since my constituent, Paul Whelan, has been wrongfully detained in Russia," she said. "That's 944 days that he has been away from his friends, his family, a comfortable bed, and his community in Novi, Michigan. It's 944 days too long. He's being held in a prison camp where he has been since August 2020 following a complete sham of a trial where they didn't have the evidence."
Twitter
About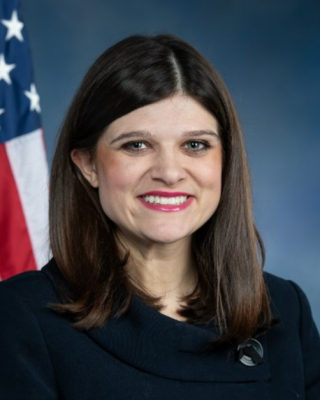 Source: Government page
Congresswoman Haley Stevens grew up in Rochester Hills, Michigan, and graduated from Seaholm High School in Birmingham. She earned a master's degree in social policy and philosophy and a bachelor's degree in political science and philosophy from American University.
Before being elected to Congress, Congresswoman Stevens served as the Chief of Staff to the U.S. Auto Rescue Task Force, the federal initiative responsible for saving General Motors, Chrysler, and 200,000 Michigan Jobs. She also played a key role in setting up the Office of Recovery for Automotive Communities and Workers, and the White House Office of Manufacturing Policy. After serving in the Obama Administration, Congresswoman Stevens worked in a manufacturing research lab focused on the future of work in the digital age.
Congresswoman Haley Stevens sits on the House Committee on Education & Labor, and the House Committee on Science, Space & Technology, where she also serves as Chairwoman of the Research & Technology Subcommittee. On these Committees, Congresswoman Stevens works to protect access to healthcare, promote manufacturing, expand educational opportunity, stand up for workers' rights, and increase investment in critical research and development.
Congresswoman Stevens resides in Rochester Hills and attends Kensington Church in Troy.
Voting Record
Caucuses 
Co-Chair, Future of Work Task Force
Gun Violence Prevention Task Force
PFAS Task Force
Bipartisan Task Force to Combat Anti-Semitism
New Democrat Coalition
Manufacturing Caucus
Automotive Caucus
Auto Care Caucus
Animal Protection Caucus
Caucus to End the Youth Vaping Epidemic
Global Investment in America Caucus
India Caucus
Vice Chair, American Sikh Congressional Caucus
Diabetes Caucus
Black Maternal Health Caucus
Robotics Caucus
Chemistry Caucus
Boating Caucus
Offices
1510 Longworth House Office Building
Washington, DC 20515
Phone: (202) 225-8171
Livonia, MI 48152
Phone: (734) 853-3040
Experience
Work Experience
Education
Contact
Email:
Offices
Washington, D.C.
227 Cannon HOB
Washington, DC 20515
Phone: Phone: (202) 225-8171
Livonia
37695 Pembroke Avenue
Livonia, MI 48152
Phone: Phone: (734) 853-3040
Web
Government Page, Campaign Site, Twitter, YouTube, Facebook, Wikipedia
Politics
Source: none
Campaign Finance
Open Secrets – We Follow the Money
Voting Record
VoteSmart – Key Votes & Ratings
Search
Wikipedia Entry
Haley Maria Stevens[1] (born June 24, 1983) is an American politician from the state of Michigan. A Democrat, she is the member of the United States House of Representatives from Michigan's 11th congressional district. The district includes many of Detroit's northern and western suburbs, such as Auburn Hills, Troy, Livonia, Canton Township, Bloomfield Hills, West Bloomfield Township, Novi, Rochester Hills, Birmingham, and Northville.
Early life and career
Stevens grew up in Rochester Hills, Michigan. She graduated from Seaholm High School in Birmingham, Michigan. She attended American University, and graduated with a Bachelor of Arts in political science and philosophy, and a Master of Arts in social policy and philosophy.[2] She became involved in politics in 2006, working for the Michigan Democratic Party as a volunteer organizer. She worked on Hillary Clinton's and Barack Obama's presidential campaigns in 2008, beginning with Clinton before the primary.[3]
In 2009, Steven Rattner hired Stevens to join the Presidential Task Force on the Auto Industry, and she served as his chief of staff.[3] She worked for the Digital Manufacturing and Design Innovation Institute in Chicago, returning to Michigan in 2017.[4]
U.S. House of Representatives
Elections
2018
Over January and February 2017, Stevens moved back to Rochester Hills. She announced her candidacy for the United States House of Representatives seat in Michigan's 11th congressional district in April 2017. The district had been represented by two-term Republican Dave Trott.[5]
Trott announced his retirement in September 2017, making the 11th an open seat.[4] Stevens defeated Tim Greimel in the Democratic Party primary election[6] and Republican nominee Lena Epstein in the general election.[7] Her victory, and that of Elissa Slotkin in the neighboring 8th district, made it the first time since the 1930s that no Republicans represented Oakland County in the House.[8] She also became the first Democrat to represent the 11th for a full term since it assumed its current configuration in 2003.
Stevens and Colin Allred, both alumni of the Obama administration, were selected as co-presidents of the House Democratic Freshman Class of the 116th United States Congress.[9]
2020
Stevens ran for reelection. She was unopposed in the Democratic primary[10] and defeated the Republican nominee, Eric Esshaki.[11]
Tenure
As of November 2021, Stevens had voted in line with Joe Biden's stated position 100% of the time.[12]
Committee assignments
Caucus memberships
Electoral history
Michigan's 11th congressional district, 2020

Party
Candidate
Votes
%
Democratic
Haley Stevens (incumbent)
226,128
50.2
Republican
Eric Esshaki
215,405
47.8
Libertarian
Leonard Schwartz
8,936
2.0
Total votes
450,473
100.0
Democratic hold
Personal life
Stevens lives in Rochester Hills.[5] She and Rob Gulley, a software engineer she met in high school, began dating in adulthood and became engaged in June 2020.[15] They married on September 3, 2021.[16]
See also
References
External links
Recent Elections
2018 US Representative for 11th
| | | |
| --- | --- | --- |
| Haley Stevens (D) | 181,912 | 51.8% |
| Lena Epstein (R) | 158,463 | 45.2% |
| Leonard Schwartz (L) | 5,799 | 1.7% |
| Cooper Nye () | 4,727 | 1.3% |
| TOTAL | 350,901 | |
Source: Ballotpedia
Finances
STEVENS, HALEY has run in 2 races for public office, winning 1 of them. The candidate has raised a total of $7,280,453.
Source: Follow the Money
Committees
Committees
House Committee on Education and Labor
House Committee on Science, Space, and Technology
Subcommittees
Health, Education, Labor and Pensions
Workforce Protections
Research and Technology
Voting Record
See: Government Page
Issues
Committees
House Committee on Education & Labor 
Subcommittee on Health, Employment, Labor and Pensions
Subcommittee on Workforce Protections
House Committee on Science, Space & Technology
Chairwoman, Subcommittee on Research & Technology
Subcommittee on Energy
Legislation
Learn more about legislation sponsored and co-sponsored by Representative Stevens.
Issues