Summary
Current Position: Governor since 2019
Affiliation: Democrat
Former Position(s): State Senator from 2011 – 2015
Featured Quote: 
The recent flooding is just one example of the extreme weather events we've seen in the last few years. The disaster relief funding @MichiganDOT has applied for will help keep Michiganders safe on our roads.
Featured Video: 
Mich. Gov. Gretchen Whitmer's Full Speech At The 2020 DNC | NBC News
News
Gov. Gretchen Whitmer vetoed Friday two voting bills from the Senate Republicans 39-bill election package that she said would "divert key resources away from ensuring that every qualified Michigan resident can cast a secure ballot in our elections."
Senate Bill 277, introduced by Sen. Michael MacDonald (R-Macomb Twp.), aimed to allow county clerks to remove the registration record of a deceased voter from the Qualified Voter File.
Whitmer said this bill "disregards the state's successful process for maintaining the Qualified Voter File by adding burdensome requirements that would distract from core election administration responsibilities."
Senate Bill 280, introduced by Sen. Ruth Johnson (R-Groveland Twp.), a former Michigan secretary of state, would have required the Board of State Canvassers to complete the canvass of signatures collected for a ballot initiative within 100 days after it is filed with the Secretary of State.
Whitmer said she would be willing to sign "common sense election reforms," including bills that allow active-duty Michiganders and spouses serving overseas to vote electronically, establish a permanent absent voter list and allow sufficient time for preprocessing of absentee ballots.
The Democratic governor has already earlier this month vetoed a number of election-related bills, saying that the bills perpetuated "the calculated disinformation campaign to discredit the 2020 election."
Republicans do have a petition drive, Secure MI Vote, to restrict voting access in Michigan. If the campaign is able to gather enough signatures, the initiative will go to the GOP-led Legislature for approval before voters and Whitmer can't veto it.
Gov. Gretchen Whitmer will veto a bill that bans using the state's public threat alert system to announce COVID-19 rules and regulations.
While Whitmer's administration did send pandemic alerts to millions of Michiganders, it did not use the specific system at the focus of the Republican-led legislation.
The GOP-controlled Senate on Wednesday voted 20-16 along party lines to support House Bill 4061, a measure that passed along a similar partisan divide in the House.
Whitmer spokesman Bobby Leddy said the alerts are a crucial tool to fight COVID-19 and the governor does not plan to sign this legislation.
Twitter
About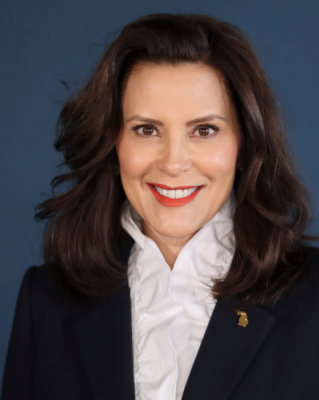 Source: Government page
Governor Gretchen Whitmer is a lifelong Michigander.  She is a lawyer, an educator, former prosecutor, State Representative and Senator.  She was the first woman to lead a Senate caucus. But the most important title she boasts is MOM. Inspired by her family, she's devoted her life to building a stronger Michigan for everyone.
Governor Whitmer was elected to the House of Representatives in 2000 and elected to the Michigan State Senate in 2006 where she served as the Senate Democratic Leader. In the 2018 gubernatorial election, Governor Whitmer won all 83 counties in the primary and won the general election with 53 percent of the vote. Since taking her oath of office, she has put together the most diverse cabinet in our state's history and has signed executive directives to clean up our drinking water, end discrimination in state government based on sexual orientation and gender identity, secure equal pay for equal work, and expand opportunities for small and disadvantaged businesses.
Governor Whitmer is committed to solving the problems Michiganders face every day. That means ensuring every Michigander has a great public education and a path to a good-paying job, every community has clean, safe drinking water, and everyone can drive to work or drop their kids at school safely, without blowing a tire or cracking a windshield.
Governor Whitmer and her husband Marc Mallory live in Lansing with her two daughters, Sherry and Sydney. Her three stepsons, Alex, Mason, and Winston all live in Michigan as well. Governor Whitmer earned a bachelor's degree and law degree from Michigan State University.  Born and raised in Michigan, Gretchen Whitmer is honored to serve as Governor of Michigan.
Experience
Work Experience
Corporate Litigator
Dickinson Wright
Prosecutor
Ingham County
Education
Personal
Whitmer and her husband, Gary Shrewsbury, have two children.
Contact
Email:
Offices
Governor
Governor Gretchen Whitmer
P.O. Box 30013
Lansing, Michigan 48909
Phone: 517-373-3400
Web
Government Page, Campaign Site, Facebook, Twitter, Wikipedia
Politics
Source: none
Campaign Finance
Open Secrets – We Follow the Money
Voting Record
VoteSmart – Key Votes & Ratings
Search
Wikipedia Entry
Gretchen Esther Whitmer (born August 23, 1971) is an American lawyer and politician serving as the 49th governor of Michigan since 2019. A member of the Democratic Party, she served in the Michigan House of Representatives from 2001 to 2006 and in the Michigan Senate from 2006 to 2015.
Whitmer was born and raised in Michigan. She is a graduate of Forest Hills Central High School near Grand Rapids, Michigan State University, and the Michigan State University College of Law. She ran unsuccessfully for the state House of Representatives in the 1990s before being elected in 2000. In 2006, she became a state senator, a position she kept until term limits forced her to step down in 2015. She was the Senate's first female Democratic leader from 2011 to 2015. In 2013, Whitmer gained national attention for a floor speech during a debate on abortion in which she shared her experience of being sexually assaulted. For six months in 2016, she was the county prosecutor for Ingham County.
Whitmer was elected governor in the 2018 gubernatorial election, defeating Republican Attorney General Bill Schuette. As governor, Whitmer has focused on healthcare and infrastructure. In February 2020, she was selected to give the Democratic response to President Donald Trump's 2020 State of the Union Address. On October 8, 2020,[1] the Federal Bureau of Investigation thwarted a militia group's kidnapping plot against her.[2] Since January 2021, Whitmer has served as one of the vice chairs of the Democratic National Committee.
Early life and education
Gretchen Whitmer was born on August 23, 1971, in Lansing, Michigan, the eldest of three children of Sharon H. "Sherry" Reisig and Richard Whitmer, both attorneys.[3][4] Her father was head of the state department of commerce under Governor William Milliken and was the president and CEO of Blue Cross Blue Shield of Michigan between 1988 and 2006.[5] Whitmer's mother worked as an assistant attorney general under Michigan Attorney General Frank Kelley.[6] Her parents divorced when she was ten years old; she and her siblings moved with their mother to Grand Rapids. Her father traveled from his home in Detroit to visit the family at least once a week.[7]
After graduation from Forest Hills Central High School, just outside Grand Rapids,[8] Whitmer earned a BA degree in communications from Michigan State University in 1993 and a Juris Doctor from Detroit College of Law at Michigan State University in 1998.[9]
State legislature
House of Representatives
Whitmer originally ran for the Michigan House of Representatives in the 1990s but was unsuccessful.[10] In 2000, she tried again and was elected to represent the 23rd legislative district. She was reelected in 2002 and 2004.[11]
State Senate
In March 2006, Whitmer won a special election to the Michigan State Senate, replacing Virg Bernero, who had been elected mayor of Lansing in November 2005.[12] She was elected to a full term in November, and reelected in 2010. In 2011, Whitmer's Democratic colleagues unanimously chose her to be the Senate Democratic Leader, making her the first woman to lead a party caucus in the Senate.[6] Due to term limits, Whitmer was unable to run for reelection in 2014 and left office in 2015.[13] In 2013, she received national recognition when she discussed her experience of being sexually assaulted.[14] She told the story during a debate about abortion rights, particularly for victims of rape, arguing victims should be allowed to terminate pregnancies that result from rape.[15]
Ingham County prosecutor
On May 11, 2016, it was announced that the judges of Michigan's 30th Judicial Circuit Court had unanimously selected Whitmer to serve the remaining six months of outgoing Ingham County Prosecutor Stuart Dunnings III's term[16] after he was arrested on March 14, 2016, and charged with 11 counts of involvement with a prostitute and four counts of willful neglect of duty.[17] In a letter dated March 29, 2016, Dunnings announced he would resign effective July 2.[18]
On June 21, 2016, Whitmer was administered the oath of office as prosecutor by Ingham County Circuit Court Chief Judge Janelle Lawless. She said her top priorities during her six months of service would be to determine if any other officials in the prosecutor's office knew about Dunnings's alleged crimes and to change how the office handled domestic violence and sexual assault cases.[19]
On July 22, 2016, Whitmer issued an 11-page report on whether Dunnings's alleged criminal activity had affected cases handled by the office. The report concluded that employees "were never asked to compromise a case or look the other way" and that she had "full confidence that any problem that had existed in this office left with Mr. Dunnings."[20][21] Whitmer's term expired on December 31, 2016.
Governorship
Elections
2018
On January 3, 2017, Whitmer announced she would run in the 2018 Michigan gubernatorial race.[22]
On August 7, 2018, Whitmer became the Democratic nominee for governor of Michigan.[23] She won all 83 counties in the state in the Democratic primary.[24]
In July 2018, Republican officials accused Whitmer of supporting the movement to abolish ICE, a claim Whitmer disputed. She said that if elected she would focus on improving Michigan's "fundamentals", such as schools, roads, and water systems.[25]
Whitmer's main opponent was Republican Bill Schuette, the term-limited attorney general of Michigan. The two candidates met for a debate on October 12, 2018, in Grand Rapids at WOOD-TV. A second debate was held at WDIV studios in Detroit on October 24.[26]
Whitmer defeated Schuette in the November 6 election by nearly a 10-point margin.[27]
2022
Whitmer has announced that she will seek reelection in 2022.[28]
Tenure
Whitmer describes herself as a progressive Democrat[29] who can work with state legislators from different political perspectives.[29]
As both a gubernatorial candidate and as governor, one of Whitmer's key pledges was to "fix the damn roads", a reference to Michigan's struggling infrastructure. Her initial post-election plan to fund road repairs with a 45-cent-per-gallon gas tax increase was, however, deeply unpopular, with one poll finding it opposed by 75% of Michigan voters, including majorities of both Democrats and independents.[30] Democratic legislators in Michigan's Republican-controlled legislature largely declined to support the plan, which would have nearly tripled Michigan's gas tax and potentially made it the highest in the nation.[31][32]
Whitmer's first budget earmarked several billions of dollars for investment in infrastructure.[33][34][35] In 2019, she struggled with the Republican-controlled legislature to pass a budget and made several concessions.[33]
The gubernatorial election and national conversation during Whitmer's time in office focused largely on healthcare. During the election, she was the only Democratic candidate not to support a single-payer healthcare system.[36] As governor, she has focused on women's healthcare and Medicaid expansion.[33]
In May 2020, the Edenville Dam gave way after awaiting an overdue report on its safety standards. Whitmer directed the EGLE to form an investigation that "state Republicans, flooding victim advocates and dam safety experts" criticized, concerned that the state's environmental agency would essentially be investigating itself.[37] Guidelines from the Association of State Dam Safety Officials advocate independent investigators. An inquiry launched by the U.S. House of Representatives later gave the EGLE and FERC a two-week deadline for answers.[38]
COVID-19 pandemic
Whitmer issued a stay-at-home order in response to the COVID-19 pandemic in March 2020.[39] This order was met with broad public approval; a March poll found that 69% of Michigan residents supported Whitmer's actions, including 61% of self-identified Republicans.[40]
After Whitmer extended the order and tightened restrictions in April,[41][42] an eight-hour protest against the restrictions organized by the Michigan Conservative Coalition and co-hosted by the Michigan Freedom Fund[43][44] attracted between 3,000 and 4,000 protesters to the Michigan State Capitol.[45][46][47] New York Times columnist Charlie Warzel described the demonstration as "twisted, paranoid and racialized", pushed by conspiracy theorists such as Alex Jones.[48] Jeanine Pirro of Fox News praised the protesters, saying, "God bless them, it's going to happen all over the country".[49] At the time of the protest, more than 1,900 people in Michigan had died after contracting the virus.[41] On April 29, a Michigan judge upheld the order against legal challenge, ruling that "Our fellow residents have an interest to remain unharmed by a highly communicable and deadly virus. And since the state entered the Union in 1837, it has had the broad power to act for the public health of the entire state when faced with a public crisis."[50]
Polling by the Detroit Regional Chamber in mid-April found that 57% of Michigan residents approved of Whitmer's handling of the coronavirus pandemic, including the extension.[51][52][53][54] The family of the first child to die of coronavirus in Michigan expressed support for Whitmer's decision to extend the stay-at-home order on the grounds that social distancing would save lives. LaVondria Herbert, the child's mother, said, "I want to say thank you to the governor for making people go home."[55]
In May 2020, Detroit-based rapper Gmac Cash released a song, "Big Gretch", in support of Whitmer and her handling of the pandemic.[56] In the song, Cash calls to put "Buffs on her face", referring to a brand of buffalo horn sunglasses from Cartier, which Detroiters consider a sign of respect.[57]
On October 2, 2020, the Michigan Supreme Court ruled 4–3 that "a state law allowing the governor to declare emergencies and keep them in place without legislative input—the 1945 Emergency Powers of the Governor Act—is unconstitutional" and unanimously ruled that the 1976 Emergency Management Act "did not give Whitmer the power, after April 30, to issue or renew any executive orders related to the COVID-19 pandemic after 28 days without Legislative approval".[58]
Also on October 2, a petition containing 539,384 signatures was submitted seeking to repeal the 1945 EPGA law allowing Whitmer emergency powers during the pandemic.[59]
In March 2021, Whitmer traveled to Florida for three days to visit her ailing father.[60][61] The trip was controversial,[61][62] in part because Whitmer did not self-quarantine on her return, despite voluntary guidelines from the Michigan Department of Health and Human Services recommending self-quarantine for a full seven days after travel; Whitmer's staff said she was regularly tested for COVID-19.[63] Further controversy about the trip arose because of Air Eagle LLC, the company hired to fly Whitmer to Florida, is not authorized to operate charter flights.[61]
In May 2021, Whitmer was photographed with large group of unmasked people with no social distancing on a bar in East Lansing.[64] The restaurant was violating state-mandated social distancing guidelines that restricted indoor dining to no more than six people on a table.[65] Whitmer apologized for the incident.[66]
National profile
In February 2020, Whitmer was selected to deliver the Democratic response to Donald Trump's 2020 State of the Union Address. Michigan was considered a swing state in the 2020 presidential election, and it was speculated that Democrats hoped selecting Whitmer would bolster their chance of winning the state.[33][67][68]
In early March, days before the 2020 Michigan Democratic presidential primary, Whitmer endorsed Joe Biden, and joined his campaign as a national co-chair.[69]
In 2020, amid her handling of the COVID-19 pandemic, as well as after tweets in which Trump attacked her and called her "that woman from Michigan", Whitmer gained a greater national profile.[70][71][72] Her response to the pandemic was the subject of the cover story of Newsweek's May 1, 2020, edition.[73] Also in May, Cecily Strong impersonated Whitmer on an episode of Saturday Night Live.[74] Strong portrayed Whitmer on the show again in February 2021.[75]
Biden and his team vetted Whitmer as a potential running mate during their 2020 Democratic Party vice presidential candidate selection, with Biden confirming she was on his shortlist in March.[76] Michigan's status as a key swing state was seen as boosting her prospects of being selected.[77] The New York Times reported that she was one of four finalists for the position, along with Kamala Harris, Susan Rice, and Elizabeth Warren.[78] Harris was ultimately selected.[79] By some reporting, Whitmer removed herself from consideration, urging Biden to choose a black woman instead.[80] While Whitmer was not selected, her consideration for the position further elevated her national stature.[76]
Whitmer delivered a speech at the 2020 Democratic National Convention that praised Biden's work in rescuing the Michigan auto industry and criticized Trump's handling of the COVID-19 pandemic.[81]
Whitmer was seen as having strong prospects of being offered a position in Biden's cabinet. On January 9, 2021, she said she was not interested in leaving her role as governor.[80]
In early January 2021, then-President-elect Joe Biden nominated Whitmer as one of the vice chair candidates for the Democratic National Committee;[82] the committee elected Whitmer and the rest of the slate of candidates on January 20 unopposed.[83][84]
Kidnapping plot
On October 8, 2020, a federal indictment against six men associated with the Wolverine Watchmen, a Michigan-based militia group, was unsealed. The indictment charges the men with plotting to kidnap Whitmer and violently overthrow Michigan's government.[85] The FBI became aware of the scheme in early 2020 after communications among the far-right group were discovered, and via an undercover agent who met with more than a dozen individuals at a meeting in Dublin, Ohio.[86] Another seven men were charged with state crimes in relation to the plot.[87] Facebook is cooperating with the investigation, since the federal criminal complaint detailed how the group used a private Facebook group to discuss the alleged plot.[88]
In the wake of the unsealed indictment, Whitmer, in a livestream, thanked the law enforcement agencies involved in the investigation, called the plotters "sick and depraved men", and cast blame on Trump for refusing to explicitly condemn far-right groups and for his handling of the COVID-19 pandemic.[89][90] In April 2022 two of the perpetrators were acquitted on all charges on grounds of entrapment by federal authorities.[91]
Political positions
Abortion
During the COVID-19 pandemic, anti-abortion groups criticized Whitmer for allowing abortion procedures to continue in Michigan, stating that they were "life-sustaining".[92] In September 2021, Whitmer began working with the state legislature to repeal a 90-year-old law that banned abortion in Michigan, so as to preserve abortion rights in the state in case Roe v. Wade was overturned.[93]
Cannabis legalization
In 2018, as a candidate for governor, Whitmer spoke at Hash Bash to endorse Proposal 1 to legalize recreational cannabis in Michigan.[94] Whitmer noted that she had been a longtime supporter of legalizing cannabis, "before it was politically fashionable", and that the time was right to "get it done" so "maybe we can get to work filling those damn potholes" and "regulate it so it doesn't get in the hands of kids".[95][96] In 2019, as governor, she reappeared at Hash Bash via recorded video message, saying: "We worked hard, we got it done, we made recreational marijuana legal in the state of Michigan."[97][98]
Education
Whitmer has said she would like to phase in full-day Universal Pre-K for 4-year-olds in Michigan. She would eliminate Michigan's current 3rd grade "read-or-flunk" policy, which she has said penalizes students the education system has failed, and would instead work to improve their reading skills. She proposes that all high school students be offered two years of debt-free higher education, either college or post-secondary training for skilled trades.[99]
Guns
On January 11, 2021, Whitmer called for a ban on all weapons inside the Michigan State Capitol in response to armed protestors in April 2020.[100] In her seven "concrete steps" to deter school shooting, she has called for bans on bump stocks and increasing resources for school resource officers.[101][102] In 2019 Whitmer joined 11 other governors in calling for stricter gun control laws in the form of "common sense gun legislation".[103] In 2012, she wrote NRA President Wayne LaPierre a letter on HuffPost about actions to prevent further school violence, like what occurred at Sandy Hook.[104]
Health care
Whitmer has said she would fight Republican efforts to take away protections for patients with preexisting conditions. In the State Senate, she successfully worked to expand Medicaid coverage in the state. She has spoken against single-payer healthcare as unrealistic and said she would work to lower the cost of prescription drugs and would get rid of Schuette's drug immunity law, which she believes protects drug companies from legal trouble if their drugs harm or kill people.[105]
Immigration
Whitmer expressed disapproval of Trump's plan to exclude illegal immigrants from the 2020 United States Census.[106] In 2019, she told immigration rights groups that she supported plans to give undocumented immigrants driver's licenses or a form of government ID.[107]
Taxation
In March 2019, Whitmer proposed increasing the gasoline tax by 45 cents per gallon to fund road repairs.[108] It was not enacted.[109] In 2021, Whitmer proposed a new 6% income tax on businesses that organize as partnerships, limited liability companies and S corporations.[110]
Personal life
Whitmer has two children with her first husband, Gary Shrewsbury. The couple divorced, and in 2011, she married dentist Marc P. Mallory, who has three children from his previous marriage.[111][112] Whitmer and Mallory live in East Lansing, Michigan, with her two daughters and his three sons.[113][114]
See also
References
External links
Recent Elections
2020 US Senator
| | | |
| --- | --- | --- |
| Gretchen Whitmer (D) | 2,266,193 | 53.3% |
| Bill Schuette (R) | 1,859,534 | 43.7% |
| TOTAL | 4,125,727 | |
Source: Ballotpedia
Finances
WHITMER, GRETCHEN E has run in 7 races for public office, winning 7 of them. The candidate has raised a total of $15,139,607.
Source: Follow the Money
Voting Record
See: Vote Smart
Issues
Source: Government page
Priorities
HEALTH CARE
"I believe one of the principal duties of any governor is to protect and promote the health and wellbeing of our state's residents."
– Governor Whitmer
INFRASTRUCTURE
"We are all paying to fix our cars when we should be paying to fix the road."
– Governor Whitmer
JOBS & ECONOMY
"While talent is equally distributed, opportunity is not.  Together we must work to build communities where all Michiganders have the skills and supports needed to build family sustaining careers and communities"
– Governor Whitmer
WATER & ENVIRONMENT
"The health of our communities and the strength of our economy depend on the fundamentals of clean air, safe water, and nutritious food. Every Michigander deserves the opportunity to be successful, starting with their health. That means protecting the air we breathe, the water we drink, and the soil in which we grow."
– Governor Whitmer
EDUCATION
"I believe every child in this state has a birthright to a phenomenal public education and a path to a high wage job."
– Governor Whitmer
SAFETY, SECURITY & JUSTICE
"Our country, our state, our neighborhoods can feel hopelessly divided. Yet, I know that we can fix this. We can make Michigan a place where our kids stay, our families thrive, and other people come to for opportunity."
– Governor Whitmer
SUNSHINE
"Michiganders deserve to know that their governor is working for the people. By voluntarily releasing this information to the public, my hope is that we can start earning back people's trust in state government as we work to fix the roads, clean up our drinking water, and improve education and skills training."
-Governor Whitmer
This page voluntarily discloses public calendars for the Governor and Lt. Governor, along with the governor's federal income tax returns and personal financial information.
TRIBAL AFFAIRS
"We can't call our state successful unless we work in full partnership with Michigan tribes."
Economy
Our State put the world on wheels, was the arsenal of democracy and helped create the middle class.  If we hope to succeed and thrive in the 21st century though, we must make sure our residents, communities, and businesses are prepared to compete in a global economy.
Many factors contribute  to Michigan's standing in the world. Our people, education system, communities, infrastructure, and companies big and small make up the backbone of our state's economy.  The more time, energy and investments we make in each, the healthier our economy will become.
Talent development can help raise the standard of living for all Michiganders. The association between income and education levels is strong. Highly educated states boast some of the highest per-capita incomes in the country. Currently, however, Michigan ranks 36th nationally for the number of residents with a high quality industry certificate, associate degree or higher and 34th for household income.
Education
A well-trained workforce is literate
The research is clear, in order to be successful kids need to learn to read. That means safe classrooms with teachers who are able to meet them where they are to help them succeed. It also means that every child, regardless of zip code, has exposure to a full curriculum of classes and opportunities to discover the right path to their future.
The cost of low literacy is staggering: $225 billion annually here in the United States. This is a cost we cannot afford and will not accept here in Michigan.
Everyone in Michigan has a right to an educational path to success – whether that is a certificate in the skilled trades, technical apprenticeship or to pursue a college track career.
Environment
Clean, affordable drinking water and healthy Great Lakes
Water defines every aspect of Michiganders' way of life – from how we work to how we play, and from what we eat to what we drink. Ensuring long-term sustainability of our water is critical to our economy and our quality of life.
The Great Lakes are one of the most important natural resources on Earth. They contain 20 percent of the world's freshwater – supplying water to Michigan's 11,000 inland lakes and 76,000 miles of inland rivers – and they sustain a wide variety of fish and wildlife species.
Health Care
Healthy Michigan, Healthy Economy
The health of every Michigander is affected by factors ranging from genetics, to the environment, the economy and government policies. These factors influence both personal choices and access to health-related services. Establishing and maintaining the public health must include a new way of thinking that shapes the goals and duties of every agency of state government.
Improving health and quality of life for all Michiganders is a top economic priority for our state.
Infrastructure
Fixing roads and building bridges
Michigan roads cost the average driver more than $540 a year – none of which fixes a single pothole.
Fixing the roads are a priority for getting Michigan back on track, but we must do it right. That means recognizing the full scope of the problem and creating a long-term plan that fixes the infrastructure as a whole and not in silos. Infrastructure includes the water underneath the ground, connecting everyone to broadband and making sure we are connected to be a leader in mobility.
These investments are not only good for our citizens, they will help grow the economy – and family incomes, along with it.
Safety
A Safe, Just, and Secure Michigan
The safety and security of every Michigander is affected by factors that range from access to job training and good-paying jobs, the safety of our neighborhoods to equality in affordable housing, auto insurance, and opportunities regardless of race, gender, or how we identify.