Summary
Current Position: US Representative for MI 8th District since 2019
Affiliation: Democrat
Elissa Blair Slotkin (born July 10, 1976) is an American politician serving as the U.S. Representative for Michigan's 8th congressional district since 2019.
A member of the Democratic Party, she previously served as a Central Intelligence Agency (CIA) analyst and Department of Defense official. Her district is based in Lansing, and stretches into the outer northern and western suburbs of Detroit.
Source: Wikipedia
News
 Staff members of Rep. Elissa Slotkin successfully evacuated 114 Afghan nationals out of Kabul and to safety according to a tweet from Slotkin.
She said that over 70 of those evacuated were affiliated with Michigan State University while the other totaling more than 30 were former deputy ministers, staff, and military officers of the former Afghan government who were being threatened and hunted by the Taliban.
"There are simply no words to convey the pain of running from your own country," Slotkin said.
Twitter
About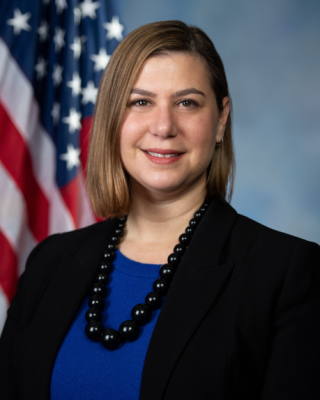 Source: Government page
Representative Elissa Slotkin is honored to serve the residents of Michigan's 8th Congressional District, a district that includes Ingham, Livingston, and North Oakland Counties.
Rep. Slotkin has spent her career in national service. After the 9/11 terrorist attacks, which took place during her first week of graduate school in New York City, Rep. Slotkin knew that national service would define her career. She was recruited by the Central Intelligence Agency (CIA) to be a Middle East analyst and went on to devote her career to protecting the United States from national security threats. In her role at the CIA, Rep. Slotkin worked alongside the U.S. military during three tours in Iraq as a militia expert. In between her tours in Iraq, Rep. Slotkin held various defense and intelligence positions under President Bush and President Obama, including roles at the White House and the Office of the Director of National Intelligence. In 2011, Rep. Slotkin took a senior position at the Pentagon and, until January 2017, she served as Acting Assistant Secretary of Defense for International Security Affairs. In this role, Rep. Slotkin oversaw policy on Russia, Europe, the Middle East, and Africa at the Pentagon and participated in negotiations on some of the country's most pressing national security issues.
It is this same mission-focus that Rep. Slotkin brings to issues affecting citizens of Michigan's 8th congressional district. For Rep. Slotkin, this means ensuring that everyone has access to healthcare they can afford, lowering the price of prescription drugs, protecting access to clean water and Michigan's Great Lakes, and returning decency and integrity to politics. Rep. Slotkin's background in national security contributes to the urgency and passion she brings to increasing government integrity and accountability and passing campaign finance reform. To learn more about Rep. Slotkin's legislative priorities, click here.
A third-generation Michigander, Rep. Slotkin spent her early life on her family farm in Holly, Michigan. The generations of Slotkins before her worked in the family business, Hygrade Foods, which was headquartered in Detroit and produced iconic foods loved by Michiganders, like the Ballpark Frank first sold at Detroit's Tiger Stadium. The values that made the family business successful instilled in Rep. Slotkin an enduring commitment to integrity, decency, and hard work that guided her to a career of service. The Slotkin family business is well represented in Rep. Slotkin's office, with hot dog figurines and artwork proudly displayed. Rep. Slotkin attended Cornell University (BA) and Columbia University in the City of New York (MA).
Rep. Slotkin's home is her family farm in Holly. Rep. Slotkin's husband, Dave, is a retired Army colonel who served for 30 years as an Apache helicopter pilot. Her two stepdaughters have pursued their own lives of service, one as a physician and the other as a new Army officer.
Our District:
U.S. Representative Elissa Slotkin is proud to serve the people of the 8th Congressional District of Michigan, a district that spans Ingham, Livingston, and North Oakland counties. The major cities include (most of) Lansing, East Lansing, Brighton, Howell, Clarkston, Lake Orion, Rochester, and Rochester Hills.
Experience
Work Experience
Education
Contact
Email:
Offices
Washington, D.C.
1531 Longworth HOB
Washington, DC 20515
Phone: Phone: (202) 225-4872
Lansing
1100 W. Saginaw St. Suite 3a
Lansing, MI 48915
Phone: Phone: (517) 993-0510
Rochester Hills
445 S. Livernois Suite 316
Rochester Hills, MI 48307
Phone: Phone: (517) 993-0510
Web
Government Page, Campaign Site, Twitter, YouTube, Facebook, Wikipedia
Politics
Recent Elections
2020 US Representative for 8th
| | | |
| --- | --- | --- |
| Elissa Slotkin (D) | 172,880 | 50.6% |
| Mike Bishop (R) | 158,782 | 46.8% |
| Brian Ellis (L) | 6,302 | 1.8% |
| David Jay Lillis () | 2,629 | 0.8% |
| TOTAL | 340,593 | |
Source: Ballotpedia
Finances
SLOTKIN, ELISSA has run in 2 races for public office, winning 1 of them. The candidate has raised a total of $11,889,333.
Source: Follow the Money
Committees
Committees
House Armed Services Committee
Homeland Security Committee
Subcommittees
Intelligence, Emerging Threats and Capabilities
Readiness
Intelligence and Counterterrorism
Cybersecurity, Infrastructure Protection and Innovation
Voting Record
See: Government Page
Issues
Governance
H.R. 1, "For the People Act"
H.R. 1, or the "For the People Act," is a once-in-a-generation reform bill that seeks to restore legitimacy to our democracy. I am a co-sponsor of the bill, along with over 220 other Members of Congress. On March 8, 2019, H.R. 1 was passed by the U.S. House of Representatives.
This comprehensive bill addresses campaign finance reform, accountability, and voting rights in order to root out corruption, increase transparency, and ensure that we return to a government of, by, and for the people.  Some of the bill's proposed measures include enhancing federal support for voting-system security, upgrading political-contribution disclosure requirements, removing obstacles to voting by making Election Day a national holiday, and closing loopholes for lobbyists and foreign agents.
I believe that people have started to lose faith that their government truly represents them because of unlimited money in politics and a belief that too many elected officials have forgotten that they are public servants.
I was proud to offer an amendment to H.R. 1 that would close loopholes that currently allow foreign governments and corporations to legally purchase campaign ads for the purpose of influencing U.S. elections. This amendment has significant national security implications, and I was pleased to see that it received broad bipartisan support and was included in the final bill.
While I continue to hope that the U.S. Senate will take up and pass H.R. 1 as a comprehensive bill, on April 4, 2019, I, along with Rep. Elise Stefanik, introduced my amendment as a standalone bill, the Preventing Adversaries Internationally from Disbursing Advertising Dollars Act, or the PAID AD Act. I believe this will give us the best chance of making immediate progress on this national security issue while we continue to fight for the more comprehensive government and campaign finance reform that our country so desperately needs.
Economy
United States-Mexico-Canada Agreement
The United States-Mexico-Canada Agreement (USMCA) is a proposed free trade agreement between the three largest countries of North America. If adopted, the USMCA would replace the current North American Free Trade Agreement (NAFTA), which has been in place since 1994. The intent of NAFTA was to lower barriers to trade, facilitate cross-border movement of goods and services, and promote conditions of fair competition.
On November 30, 2018, after months of negotiations, President Trump, Prime Minister Trudeau of Canada, and President Nieto of Mexico signed the USMCA. While the draft deal was signed by leaders from all three countries, it now needs to be ratified by each country's legislature before taking effect. When it comes to trade agreements, I take a principled approach: what does a trade deal do for Michigan businesses and Michigan workers? This is the scorecard that any trade deal should be graded against. There are benefits that come from trading with our international partners, but those benefits should not come at the expense of working Americans.
To be sure, in many ways USMCA is an improvement on NAFTA, and I was pleased to see some of the provisions that have been included in the deal. For example, improved "rules of origin" will facilitate increased domestic auto manufacturing, protecting American autoworkers. Easing of restrictions on Canadian markets will increase export opportunities – particularly for the Michigan agricultural sector. Finally, I also support the strengthened labor, wage, and environmental protections that seek to improve working conditions, raise wages, protect our environment, and level the playing field for all three countries.
However, in my view, some of these positive provisions do no go nearly far enough. For example, many of the labor and environmental protections that are so essential to leveling the playing field and benefiting American workers are insufficient and lack adequate enforcement mechanisms or changes to domestic laws, particularly in Mexico, to be effective.
I am also concerned that some provisions in the USMCA may harm American consumers. Of particular concern are the significant giveaways to pharmaceutical companies that will drive up the cost of prescription drugs for consumers while doing nothing to protect American workers. Specifically, increased intellectual property protections for American pharmaceutical companies will impede the development of generic drugs that provide consumers with a more affordable option. Constituents in our district constantly approach me to discuss the skyrocketing cost of prescription drugs and the financial squeeze that it is causing them. I do not support a scenario in which the USMCA exacerbates this already significant problem.
The renegotiation of NAFTA has given us an opportunity to do right by American workers. To do so, I will continue to work with United States Trade Representative Robert Lighthizer, my fellow Members of Congress, and constituents to improve upon the USMCA as it currently stands. As your elected representative, please be assured that I will always fight for Michigan workers and will keep your views in mind when the finalized USMCA comes to the House floor for a vote.
Education
For more information concerning work and views related to Education, please contact our office.
Environment
I recognize the consequences of climate change and the threats to our environment, globally and in Michigan. The science is clear: we cannot continue on our current trajectory without causing irreversible harm to our environment. While serving at the Pentagon, I led a team that worked on a first-of-its-kind study into the effects of climate change on our military installations and our forces around the globe. It is a national security issue, and I believe that we need to think about environmental security the way we think about homeland security: it's about the safety of our families and the preservation of our way of life.
Natural Resources Management Act and LWCF
On February 26, 2019, I proudly voted in support of S. 47, the John D. Dingell Jr. Conservation, Management, and Recreation Act. The bill, now Public Law 116-9, passed both the House and the Senate and was signed into law by the President on March 12, 2019. This sweeping package combines over 100 bills from the previous Congress and puts forth a comprehensive plan for managing and preserving our country's public lands. You may already be aware that the bill was named in memory of the late Representative John Dingell Jr., to honor his role as a champion for the conservation of public lands in Michigan and around the nation. As a fellow Michigander and outdoor enthusiast, I find this tribute particularly meaningful.
In addition to provisions expanding recreational access to federal lands, supporting fish and wildlife habitat restoration projects, and establishing a research and development program for drones to monitor wildfires, this bill permanently reauthorizes the Land and Water Conservation Fund (LWCF). As you likely also know, the LWCF, established in 1964, is one of our most effective programs for safeguarding our nation's natural resources. This bipartisan initiative directs funds toward the conservation of our national parks, national wildlife refuges, national forests, and the areas around rivers and lakes.
The LWCF also allocates money for state and local governments to fund similar programs. In Michigan alone, the program has contributed over $329 million in funding for some of our most beautiful sites, like the Sleeping Bear Dunes and Pictured Rocks National Lakeshores. Additional state assistance grants from the LWCF support projects in our very own district, such as the Brighton State Recreation Area in Livingston County, the Proud Lake Recreation Area in Oakland County, and the Lake Lansing Park in Ingham County. Moreover, the LWCF distributes this funding without relying on taxpayer money, as it is supported by revenues collected from offshore oil and gas drilling.
In Michigan, we treasure our natural resources, depend on them to keep our families healthy, and rely on them to keep our economy strong. My family are avid paddlers and we make sure to go camping off the grid at least once a year in one of Michigan's amazing national or state parks. This tradition gives me a very personal connection to protecting our public lands. With the passage of the John D. Dingell Jr. Conservation, Management, and Recreation Act, Michiganders can rest assured that we will be able to enjoy our public lands for years to come. Please know that I will continue to prioritize the conservation and protection of our public lands as your elected representative in Congress.
Save America's Pollinators Act
The Save America's Pollinators Act was designed to protect pollinators such as the honeybee, insects, and birds from neonicotinoid pesticides.  These pollinators are critically important to our food systems. In fact, according to the United States Department of Agriculture (USDA), the honey bee is indirectly responsible for one third of the human diet.
I recognize the need to protect pollinators from harmful neonicotinoids and understand how important these protections are for our entire ecosystem. I first became aware of this issue during my junior year of college, when I lived and worked in Kenya, with a tribe that relies on honey for a significant portion of their diet. I spent lots of time learning to harvest honey, and in the process came to love bees and appreciate their contributions to our ecosystem. As your elected representative, please be assured that I will strongly consider co-sponsorship of the Save America's Pollinators Act and will keep your support in mind should it come to the floor for a vote. I will also look to find ways to ensure that these protections remain robust without adversely affecting Michigan farmers.
Green New Deal Resolution:
A resolution in support of the Green New Deal, H.Res. 109, was introduced in the House of Representatives on February 7, 2019. The resolution asserts the need for immediate, sweeping action to mitigate the negative effects of climate change and set forth potential policy focuses.
I recognize the consequences of climate change, globally and in Michigan.The science is clear: we cannot continue our current trajectory without causing irreversible harm to our environment. While serving at the Pentagon, I led a team that worked on a first-of-its-kind study into the effects of climate change on our military installations and our forces around the globe. It is a national security issue and I believe that we need to think about environmental security the way we think about homeland security: it's about the safety of our families and the preservation of our way of life.
To that end, I agree with many of the tenets of the proposed Green New Deal. Upgrading our national infrastructure to ensure access to clean water and reduce the risks posed by flooding, transitioning toward clean energy sources, reducing carbon emissions, and creating high-quality union jobs in renewable energy industries are all priorities for me. I appreciate both the sense of urgency that the proposal brings to the conversation on environmental security and the passion of the young people who have brought this conversation to the national stage.
With an issue as urgent as combating climate change, we must focus both on big, bold initiatives like those proposed in the Green New Deal resolution and on areas where we have the most common ground and we can get passed into law. I am working on a few pragmatic measures that I am excited to move forward. I am an original cosponsor of the Water Affordability, Transparency, Equity and Reliability (WATER) Act of 2019, a measure that would provide for sweeping investment in our country's water infrastructure and generate thousands of new jobs.
As the co-chair of a Democratic task force focusing on transportation and infrastructure, I am committed to looking for innovative and environmentally sound ways to fix our country's aging infrastructure. I understand the urgency of this issue and will move forward quickly on climate change-related legislation.
Climate Action Now Act
I am proud to co-sponsor H.R. 9, the Climate Action Now Act. This bill, which passed the U.S. House of Representatives with bipartisan support on May 2, 2019, would recommit the United States to the environmental standards set forth under the Paris Climate Accord, which was negotiated in 2015 by representatives of 196 countries to reduce global greenhouse gas emissions. In 2017, the current administration announced their intention to withdraw the United States. from the agreement by 2020, the earliest possible date. The Climate Action Now Act would reverse this decision by prohibiting the use of federal funds to take actions to remove the Unites States from the accord. It would also require the Administration to submit to Congress a plan for the United States to meet its voluntary commitments under the accord. The bill has now moved to the U.S. Senate for passage.
Health Care
Representative Slotkin is always looking for opportunities to hear directly from constituents, and integrate their unique stories into her work to advance legislation on issues that matter to 8th district residents. She would sincerely appreciate your willingness to share your story describing how the costs of healthcare or prescription drugs have affected you and your family.
Mental Health Awareness Act
The Mental Health Access Improvement Act would amend the Social Security Act to allow licensed professional counselors to provide mental health services under the Medicare program. Today, seniors are unable to use Medicare to see a licensed professional counselor and consequently face barriers to receiving adequate mental health care. The bill would also extend Medicare coverage to marriage and family therapists.
I want to ensure that seniors do not face obstacles to receive mental health treatment. The cost of health care has been the issue I have heard about most. As such, I strongly support efforts to make health care, including mental health care, affordable and accessible for all.
For more information concerning work and views related to Health, please contact our office.
Immigration
H.R. 6, The American Dream and Promise Act of 2019
America is a nation of immigrants and was built by courageous men and women who traveled from around the world with the hope of living the American dream. Unfortunately, our immigration system at present is fundamentally broken, and I am committed to working with my colleagues on both sides of the aisle to pass comprehensive immigration reform. This reform must address immigration as a national security issue, an economic issue, and a moral issue.
The Deferred Action for Childhood Arrivals (DACA) was a program established in 2012 to protect individuals who were brought to the United States as children from being deported. Today, there are over 700,000 individuals who benefit from the program and as many as 1.8 million are estimated to be eligible. These individuals were brought to the United States by their parents and often have had no lives in their countries of origin. Deportation would be devastating and would mean sending these individuals away from the only home they've ever known. Despite these realities, the current administration ended the DACA program in September 2017. While current DACA recipients have avoided deportation pending legal challenges, they remain in a state of limbo.
I believe it would be immoral to deport the thousands of DACA recipients who have been raised in this country. They are our neighbors, coworkers, and friends, and they deserve a pathway to citizenship in the country they love. As such, I am proud to be a co-sponsor of H.R. 6, the American Dream and Promise Act of 2019. This bill would provide conditional green cards and work authorizations to immigrants who meet criteria nearly identical to the DACA program. These individuals could earn full permanent residency through work, education, or military service.
Individuals covered by Temporary Protected Status (TPS) or Deferred Enforced Departure (DED) – programs designed to protect immigrants from particularly dangerous parts of the world – face similarly uncertain futures as the current administration has also moved to end both of these programs. For now, the courts have blocked the administration's attempts pending legal challenges. H.R. 6, which currently sits in the House Committee on the Judiciary and the House Committee on Education and Labor, would erase this uncertainty by providing TPS and DED individuals with green cards and a similar path to permanent residency as DACA recipients.
I will work my fellow Members of Congress to advance the American Dream and Promise Act of 2019 while simultaneously pushing for the broader immigration reform that we so desperately need.
The Diversity Immigrant Visa Program
The Diversity Immigrant Visa Program was established in 1990 as a way to offer visas to individuals from countries underrepresented in the U.S. population. This program is highly competitive, attracting nearly 15 million applications in some years.
All applicants to the program must meet or exceed baseline education or professional experience levels to be considered. This means the equivalent of a high school diploma or two years of work experience in an occupation that requires at least two years of training. Moreover, the entries chosen in the lottery do not automatically receive a visa. Rather, those selected become eligible to apply for a visa. This application process involves extensive vetting by numerous government agencies to root out any potential security threats.
I recognize that there are areas for improvement in the current Diversity Immigrant Visa Program, such as a renewed focus on matching the skills of those who immigrate to the needs of our economy. However, I also feel that the program is a valuable tool for those who seek to legally immigrate to the United States and share in the American dream. While I do not believe that eliminating the program is the best course of action, I will keep in mind potential improvements to the program.
Veterans
For more information concerning work and views related to Veterans issues, please contact our office.