Summary
Current Position: US Representative for MI 12th District since 2015
Affiliation: Democrat
Featured Quote: 
Today, the bipartisan @January6thCmte is holding its first hearing with @CapitolPolice & @DCPoliceDept
officers whose lives were threatened by violent insurrectionists. We owe it to them to get the clear facts about that dark day.
Featured Video: 
'This Was A Wakeup Call To The Country,' Says Rep. Debbie Dingell | TODAY
News
Detroit — Lawmakers and activists gathered in Detroit on Saturday advocating for President Joe Biden's $1 trillion infrastructure plan approved earlier this month.
U.S. Rep. Rashida Tlaib, D-Detroit, and Sen. Bernie Sanders, I-Vermont, held a town hall at the Eastside Community Network and talked about how the plan would improve infrastructure and promote environmental justice in the region.
"The tie-breaking vote may come down to the Vice President at 5 a.m.," Sanders said. "Republican friends are saying we can't because we're going to raise taxes. They're right. We are finally going to raise taxes on the rich who are not paying their fair share. Does it go as far as I, Rashida, Debbie and Andy would like? No, but it will be the biggest piece of legislation in our lifetime."
Representatives of the Michigan Republican Party were not immediately available for comment.
The town hall comes amid ongoing negotiations and drafting of the infrastructure bill and a $3.5 trillion budget reconciliation bill expected to be unveiled next month.
The bipartisan plan received a 69-30 vote, including Senate Republican leader Mitch McConnell, and is the cornerstone of Biden's agenda.
Twitter
About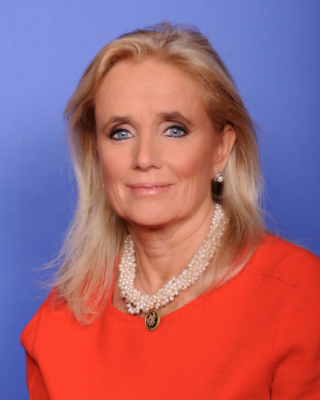 Source: Government page
Congresswoman Debbie Dingell represents the 12th District of Michigan in the U.S. House of Representatives.  Before being elected to Congress, Debbie was the Chair of the Wayne State University (WSU) Board of Governors.  An active civic and community leader, she is a recognized national advocate for women and children.
For more than 30 years Debbie served one of Michigan's largest employers, the General Motors (GM) Corporation, where she was President of the GM Foundation and a senior executive responsible for public affairs.   In her commitment to job creation, Debbie led the effort to bring the 10,000 Small Businesses initiative, a $20 million partnership designed to help create jobs and economic growth, to southeast Michigan. She is a past chair of the Manufacturing Initiative at the American Automotive Policy Council.
With values instilled by her Catholic education, Debbie's activism took root in her passion for issues important to women and children.  She successfully fought to have women included in federally-funded health research, and advocated for greater awareness of issues directly related to women's health, including breast cancer and women's heart health. She is a founder and past chair of the National Women's Health Resource Center and the Children's Inn at the National Institutes of Health (NIH).  She has served on numerous boards related to women's issues including the advisory boards for the NIH Panel for Women's Research, the Michigan Women's Economic Club, the Susan G. Komen Foundation, and the board of the Michigan Women's Foundation.  She was a co-founder of both the first Race for the Cures in Michigan and in Washington, D.C.
Debbie has led a number of efforts and initiatives related to young people and education stemming from her role as a WSU Governor and co-chair of the Children's Leadership Council, a business-led advocacy group that promotes investment in early childhood education.  She chaired the Michigan Infant Mortality Task Force, the Baby Your Baby public education campaign that reduced infant mortality rates in Michigan, and has served on the board of Michigan's Children, the only statewide independent voice working to ensure that public policies are made in the best interest of children from cradle to career. She was appointed by Michigan Governor Jennifer Granholm to serve on the Early Childhood Investment Corporation and the Cherry Commission on Higher Education and Economic Growth.
Much of Debbie's recent work has been focused on ethical issues and social responsibility as they relate to government and business. She co-chaired One United Michigan, which sought to preserve and support programs that ensure equal opportunity in Michigan. She chairs the Metropolitan Affairs Coalition, a statewide organization that brings business, labor and government together to find commonality on issues.  She continues to serve on the Parade Company board of directors of which she is past chair, where she helped save America's Thanksgiving Parade, an important Detroit tradition.  A known "bridge-builder," she continues to promote and lead efforts toward greater understanding among people of differing points of views and backgrounds.
Debbie is a respected voice in Michigan.  She co-hosted Detroit Public Television's "Am I Right," regularly served as a panelist on "Flashpoint," a public affairs program on WDIV-TV4 Detroit, and was named one of the 100 Most Influential Women in Michigan by Crain's Detroit Business.
Debbie resides in Dearborn.  She holds both a B.S.F.S. in Foreign Services and an M.S. in Liberal Studies from Georgetown University.
Voting Record
Caucuses 
She also serves on the following caucuses and working groups:
Agriculture and Rural America Task Force
Auto Care Caucus
Bipartisan Congressional Task Force to Combat Identity Theft and Fraud
Bipartisan Heroin Task Force
Bipartisan Task Force for Combating Anti-Semitism
Cancer Survivors Caucus
Congressional 21st Century Skills Caucus
Congressional Access to Civil Legal Service Caucus
Congressional Addiction, Treatment and Recovery Caucus
Congressional Air Force Caucus
Congressional Aluminum Caucus
Congressional Animal Protection Caucus
Congressional Arts Caucus
Congressional Arthritis Caucus
Congressional Asian Pacific American Caucus (CAPAC)
Congressional Assisting Caregivers Today Caucus
Congressional Asthma and Allergy Caucus
Congressional Biomedical Research Caucus
Congressional Blue Collar Caucus
Congressional Brain Injury Task Force
Congressional Building Trades Caucus
Congressional Buy American Caucus
Congressional Caucus for Women's Issues
Congressional Caucus on Deadliest Cancers
Congressional Caucus on International Exchange and Study
Congressional Caucus on Maternity Care
Congressional Caucus on Poland
Congressional Caucus on Prescription Drug Abuse
Congressional Caucus on Public-Private Partnerships
Congressional Chemistry Caucus
Congressional Childhood Cancer Caucus
Congressional Children's Health Care Caucus
Congressional Civility Caucus
Congressional Coast Guard Caucus
Congressional Cooperative Business Caucus
Congressional Cyber Security Caucus
Congressional Cystic Fibrosis Caucus
Congressional Emergency Medical Services (EMS) Caucus
Congressional Energy and National Security Caucus
Congressional Fire Services Caucus
Congressional Food Safety Caucus
Congressional Hearing Health Caucus
Congressional Heart and Stroke Caucus
Congressional Homelessness Caucus
Congressional House Cancer Caucus
Congressional House Manufacturing Caucus
Congressional Invasive Species Caucus
Congressional Inventions Caucus
Congressional Labor and Working Families Caucus
Congressional LGBT Equality Caucus
Congressional Lung Cancer Caucus
Congressional Lupus Caucus
Congressional Mental Health Caucus
Congressional Military Family Caucus
Congressional Military Mental Health Care Caucus
Congressional Military Sexual Assault Prevention Caucus
Congressional Motorsports Caucus
Congressional NASA Caucus
Congressional National Parks Caucus
Congressional Neuroscience Caucus
Congressional Pension Protection for Working Families Caucus
Congressional PFAS Task Force
Congressional Pre-K Caucus
Congressional Privacy Caucus
Congressional Public Health Caucus
Congressional Public Transportation Caucus
Congressional Scouting Caucus
Congressional Skin Cancer Caucus
Congressional Small Business Caucus
Congressional Soccer Caucus
Congressional Social Work Caucus
Congressional Sportsmen's Caucus
Congressional US-China Working Group
Congressional Veterans Jobs Caucus
Congressional Victims' Rights Caucus
Congressional Wildlife Refuge Caucus
House Automotive Caucus
House Gun Violence Prevention Task Force
House Oceans Caucus
House Sugar Caucus
Hydrogen and Fuel Cell Caucus
Medical Technology Caucus
National Service Caucus
Northern Border Caucus
Public Works and Infrastructure Caucus
Small Brewers Caucus
Sustainable Energy and Environment Coalition (SEEC) Caucus
Offices
Washington, DC Office
116 Cannon House Office Building
Washington, DC 20515
Phone: (202) 225-4071
Fax: (202) 226-0371
Get directions
Dearborn Office
19855 West Outer Drive
Suite 103-E
Dearborn, MI 48124
Phone: (313) 278-2936
Ypsilanti Office
301 West Michigan Avenue
Suite 400
Ypsilanti, MI 48197
Phone: (734) 481-1100
Contact
Email:
Web
Government Page, Campaign Site, Twitter, YouTube, Facebook, Wikipedia
Politics
Source: none
Campaign Finance
Open Secrets – We Follow the Money
Voting Record
VoteSmart – Key Votes & Ratings
Search
Wikipedia Entry
Deborah Ann Dingell (/ˈdɪŋɡəl/; née Insley; November 23, 1953) is a Democratic Party politician who has been the U.S. Representative for Michigan's 12th congressional district since 2015. She is the widow of John Dingell, her predecessor in the seat, who holds the record as the longest-serving member of Congress in U.S. history. She worked as a consultant to the American Automobile Policy Council.[1] She was a superdelegate for the 2012 Democratic National Convention in Charlotte, North Carolina.[2][3]
Dingell is active in several Michigan and Washington, D.C., charities and serves on a number of charitable boards. She is a founder and past chair of the National Women's Health Resource Center and the Children's Inn at the National Institutes of Health (NIH).[4] She is also a member of the Board of Directors for Vital Voices Global Partnership.[5] She is a 1975 graduate of the Edmund A. Walsh School of Foreign Service at Georgetown University.
Life and career
Descended from one of the Fisher brothers, owners of Fisher Body,[6] from 1919 a part of General Motors, she has served as president[7] of the General Motors Foundation and as executive director of Global Community Relations and Government Relations at GM.
She married Representative John Dingell, 27 years her senior, in 1981;[8] she was his second wife. She had grown up as a Republican, but became a Democrat soon after marrying Dingell. Their marriage lasted 38 years until her husband's death on February 7, 2019, at the age of 92.
She is a member of the Democratic National Committee from Michigan and chaired Vice President Al Gore's campaign in Michigan in 2000. In 2004, she also helped secure the Michigan Democratic primary and general election vote for John Kerry in Michigan.
In November 2006, Dingell was elected to Wayne State University's board of governors.[9]
Dingell and Senator Carl Levin were proponents of moving up Michigan's presidential primary before February 5 in an attempt to garner greater political influence for Michigan during the 2008 Democratic primaries.[10] This resulted in Michigan almost losing its delegates' votes in the Democratic National Convention.[11]
John Dingell became the longest-serving member of the United States House of Representatives in June 2013 and continued serving until the end of the 113th Congress in January 2015.
When Carl Levin announced his retirement from the U.S. Senate at the end of his term in 2015, Dingell indicated that she was interested in running for his seat.[12] When former Michigan Governor Jennifer Granholm declined to run for the seat, a Politico writer declared Dingell to be one of the front-runners for the Democratic nomination, alongside Representative Gary Peters.[13] She chose not to run, and Peters won the seat.
In 2018, Dingell introduced a law that would give the Consumer Product Safety Commission the authority to recall defective firearms. John Dingell was a key lawmaker who initially granted the firearms industry this exemption from the 1972 Consumer Product Safety Act that created the Consumer Product Safety Commission.[14]
In July 2019, Dingell voted against a House resolution introduced by Representative Brad Schneider opposing efforts to boycott the State of Israel and the Global Boycott, Divestment, and Sanctions Movement targeting Israel for its continued occupation of Palestine.[15] The resolution passed 398–17.[16]
U.S. House of Representatives
Elections
2014
Dingell indicated that she planned to run for her husband's congressional seat after he announced his retirement.[17] On August 5, she won the Democratic primary. On November 4, she won the general election, defeating Republican Terry Bowman.[18] When Dingell was sworn in, she became the first U.S. non-widowed woman in Congress to succeed her husband. His father, John Dingell Sr., held Michigan's 12th district for 22 years before his son won it. Altogether, the Dingells have represented this district and its predecessors for 89 consecutive years as of 2021.[19][20] The district was numbered as the 15th from 1933 to 1965, the 16th from 1965 to 2003, the 15th again from 2003 to 2013, and has been the 12th since 2013.
Tenure
Trump impeachment
After Dingell voted to impeach President Donald Trump, Trump attacked Dingell during a campaign rally in Battle Creek, musing that her late husband, might be in hell, saying of him, "Maybe he's looking up, I don't know, I don't know, maybe, maybe. But let's assume he's looking down."[21] She was attending a bipartisan Problem Solvers Caucus gathering when she was told of Trump's remarks. Numerous members of both parties came to Dingell's defense.[22] In her response to the incident, Dingell called for a return to civility, saying, "some things should be off limits."[23]
Committee assignments
Caucus memberships
See also
References
External links
Issues
Source: Government page
Committees
Committee on Energy and Commerce

Subcommittee on Health
Subcommittee on Communications & Technology
Subcommittee on Consumer Protection & Commerce
Subcommittee on the Environment & Climate Change

Committee on Natural Resources

Subcommittee on National Parks, Forests, and Public lands
Subcommittee on Oversight & Investigations
Legislation
Issues